Elge Precision Increases its CNC Turning Services Capacity with Two New Machines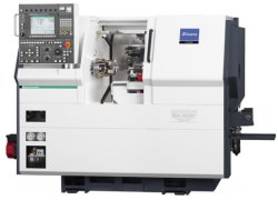 Elge Precision Inc, located in Reading, PA, has added two new BNA42 Turning Centers for increased capacity. Citizen's Miyano 5-Axis Super Turning Center with Automatic Bar Feed System is the perfect complement to our CNC Machining and Screw Machining Services. Miyano is known as "the World's Leader in Precision" and this machine as the strongest high-rigidity machine for heavy machining. We are experienced in machining multiple types of metals and plastics including stainless steel, aluminum, brass, and Delrin.
About Elge Precision:
For more than 74 years, ELGE has provided high quality precision screw machined products for all types of original equipment manufacturers worldwide. We offer Screw Machining Services, CNC Turning Services, and CNC Machining Services. Our products include fasteners, rivets, pins, dowels, couplings, gaskets, electronic connectors, closures, washers, lighting components, hardware, door parts, knurled pins, screws, jam nuts, fittings, collars, hex nuts, bushings & knob screws.
Providing on-time delivery and within specification. Our production facility maintains a wide range of the latest high-precision bar machines, CNC turning lathes, single spindle and multi-spindle screw machines, finishing equipment and secondary equipment, backed up by an experienced staff of professionals capable of handling a broad range of requests. Our focus on quality extends to the development of more efficient business processes, which ultimately contributes to a greater cost-savings potential for our customers. We have rigorous quality control standards and a strong commitment to technical expertise. For more information visit our website www.elgeprecision.com or call 1-800-249-5471
Related