Elevator Bucket comes in high-capacity sizes.
Press Release Summary: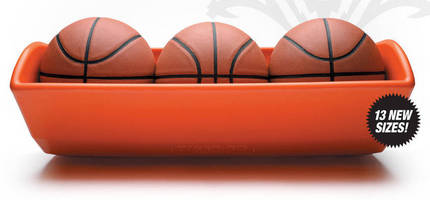 Engineered with thick walls and corners, Tiger-CC maximum duty elevator buckets come in 13 sizes from 12 x 8 to 28 x 10. Largest size carries up to 30,000 bushels/hr (bph) in single row, and buckets also allow for double row 60,000 bph elevator. Other arrangements allow for capacities of from 10,000–75,000 bph.
---
Original Press Release:

Maxi-Lift Announces the Largest CC Bucket in the World - the Next Generation in High Capacity Elevator Buckets



Dallas, Texas – Maxi-Lift, the leading manufacturer of plastic elevator buckets, proudly announces the new series of Tiger-CC elevator buckets.



Expanding on the enormous success of the Tiger-Tuff, the Tiger-CC has the design of the CC, with the toughness of the original Tiger-Tuff. With thicker walls and corners, the Tiger-CC is the new standard in maximum duty elevator buckets.



The new Tiger-CC series has been expanded to 13 sizes. The Tiger-CC is available from a 12x8 up to a 28x10. This largest size will carry up to 30,000 bushels per hour in a single row which is a huge breakthrough for high capacity bucket elevators. In the past, bucket elevators had to use multiple rows to achieve larger capacities. Now, the new generation of high capacity bucket elevators can use fewer buckets in fewer rows to achieve a greater capacity.



In addition to a single row 30,000 bushel per hour elevator, the Tiger-CC series of buckets allows for a double row 60,000 bph elevator. Other Tiger-CC arrangements allow for capacities of between 10,000 bph, and 75,000 bph.



Paul Phillips, President of Maxi-Lift, stated "Customers have been asking for single row 25,000 and 30,000 bph elevators, and now it is a reality. Using the Tiger-CC elevators buckets, our customers can reduce the number of rows needed to achieve these larger capacities."



"Large terminals and port facilities continue to demand high throughputs. We focused on meeting those needs by creating a product that could achieve the desired capacity, while keeping the actual elevator size to a minimum." says Bo Fisher, VP of Sales for North America.



With over 38-years of experience, the Maxi-Lift® brand means unmatched service, customized solutions, engineered quality and fast delivery. Maxi-Lift® distributes elevator bucket and accessory solutions to over 70 countries around the globe. With more than 300,000 square feet of production, manufacturing and warehouse space, Maxi-Lift® is the largest Elevator Bucket Manufacturer in North America.









Contact:

Paul Phillips

Maxi-Lift, Inc

Phone 800.527.0657



Fax 972.735.8866

16400 Midway Road

Dallas, Texas 75001

USA

www.maxilift.com





More from Construction Equipment and Supplies