Elevating Platform can pick up workers in wheelchairs.
Press Release Summary: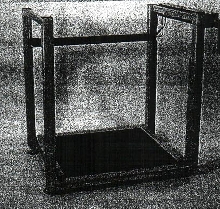 Easy Riser positions person at comfortable height on assembly line, service counter or any other workstation. Platform is wide enough to accommodate most wheelchairs. System includes padded platform surrounded by safety rails. Elevating mechanism consists of hand or electrically operated hydraulic pump connected to 4 struts. When pump is activated it causes fluid to be forced into struts thus lifting platform to desired height.
---
Original Press Release:
Lightweight Elevating Platform Introduced At The National Ergonomics Conference By Fox Bay Industries

Auburn, Wash., December 10, 2001 - Fox Bay Industries, Incorporated, the Auburn, Washington-based developer and manufacturer of high quality ergonomic products, introduces a new lightweight elevating platform. The Easy Riser- is designed to position a person, with a smaller than average stature, at a comfortable height. Correct height is extremely important when working in a stationary position such as on an assembly line, service counter or any other workstation that requires the individual to maintain a sustained height. The platform is also wide enough to accommodate most wheelchairs and may very well enable an individual to perform tasks that were heretofore, impossible.

"We are pleased to be able to provide an affordable solution to a problem that seems to be common in the workplace", said Wayne Walker, President of Fox Bay Industries. "I was made aware of the need some months ago when a company approached us requesting a product that could assist workers in reaching controls on an assembly line. At the time, we had no such product. Our research revealed that other companies manufactured lifting and elevation platforms but all were heavy, cumbersome and costly. So, we developed the Easy Riser-, a lightweight, inexpensive alternative. What makes this product so versatile is that we have the ability to modify it to fit most assembly line or conveyer belt applications. We even have a one, on the drawing board, that has a chair mounted directly the' elevating surface.

The new Easy Riser elevating system comprised of a padded platform surrounded by safety rails. The elevating mechanism consists of a hand or electrically operated hydraulic pump connected to four struts. When the pump is activated it causes the fluid to be forced into the struts thus lifting the platform to the desired height. For many years Fox Bay Industries has been manufacturing innovative products like the Easy Riser-. Fox Bay equipment is found in private offices, factories, hospitals, Federal, State and local government agencies. Their ergonomic products are designed for extremely demanding work environments and are frequently chosen for use in 91 1 Call Centers.

Ergonomic Products in the Workplace:
Experts agree that properly designed ergonomic products help minimize stress and fatigue, as well as, diminish the risks normally associated with repetitive motion injuries. This translates into increased worker comfort and productivity. Properly designing new or upgrading existing workstations can greatly reduce the risk of worker injury, thus lessening the potential of expensive and prolonged medical claims.

Features and Benefits:
The Easy Riser- quickly adapts the workplace environment to better fit the natural positioning of the human body. Now workers that are not as tall as there counterparts can more easily accomplish tasks or reach controls. The elevated worker can greatly reduce the strain and discomfort associated with repetitive motion maladies while simultaneously, increasing efficiency. The user can easily configure the Easy Riser workstation to offer maximum versatility and comfort.

Pricing and Availability
The Easy Riser-- is available in several configurations. The basic unit equipped with a hand operated pump carries a list price of $1,995.00. The wheelchair width lists for $2295.00. Electrically operated pump versions sell for an additional $150.00. They are available directly from Fox Bay dealers throughout the United States. Contact the manufacturer for a list of authorized dealers.

About Fox Bay Industries Fox Bay Industries, founded in 1989, is a privately held corporation headquartered in Auburn, Washington. The company designs, distributes and manufactures high quality, ergonomically functional, articulating arms, keyboard trays, wrist and foot supports for both the office and workplace environment. In addition, Fox Bay offcrs a complete line of superior ergonomic accessories designed to enhance and modify new, as well as, existing workstations. For more information about Fox Bay Industries Corporation, call (800) 874-8527 Ext 12, or visit their World Wide Web site at www.foxbay.com.

More from Agricultural & Farming Products