Electrosurgical Analyzer helps ensure safety of ESUs.
Press Release Summary: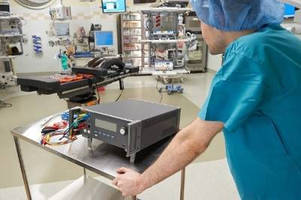 Offering wireless functionality, QA-ES III Electrosurgical Analyzer tests all critical electrosurgical unit functions, including precision power, current, frequency, crest factor, and load resistance. Multi-purpose ports, coupled with color-coded stacking leads, minimize number of connections necessary to test and verify performance and safety of ESUs. Equipped with large LCD and on-screen guides, analyzer can store up to 5,000 records that can be transferred to PC via Bluetooth or USB.
---
Original Press Release:

Announcing the QA-ES III Electrosurgical Analyzer for Testing and Ensuring the Proper Performance and Safety of Electrosurgical Units



EVERETT, Wash.,  -- An electrosurgical unit (ESU) that does not function correctly can be hazardous, leading to ineffective cutting, cauterizing, or vessel sealing, burning a patient or physician, or even starting a fire. It is, therefore, important to verify the performance of electrosurgical units, and ensure they are operating as specified. The Fluke Biomedical QA-ES III Electrosurgical Analyzer tests all critical electrosurgical unit (ESU) functions, including precision power, current, frequency, crest factor, and load resistance.



"For over a decade, the QA-ES II Electrosurgical Analyzer has been a trusted tool for biomedical technicians," explains Eric Conley, General Manager for Fluke Biomedical. "Our new QA-ES III provides improved performance, wireless* functionality, and is ready out-of-the-box with no need for additional cables, leads or hardware. In addition, it is 5.5 pounds (2.5 kilograms) lighter than its predecessor, making it easier to carry from location to location."



The multi-purpose ports of the QA-ES III, coupled with its color-coded stacking leads, minimize the number of connections necessary to test and verify the performance and safety of ESUs. The QA-ES III also provides increased accuracy and range for measuring vessel sealing, contact quality monitor (CQM), high frequency (HF) leakage, and output power distribution in single or continuous mode.



"The QA-ES III has industry leading performance and specifications for power, current, peak-to-peak voltage, and crest factor, making it an ideal electrosurgical analyzer for today's modern high-power ESUs," explains Shirin Khanna, QA-ES III Senior Marketing Manager. "It can store up to 5,000 test records on-board that can be quickly and easily transferred to a PC via Bluetooth or USB."



The QA-ES III complies with the latest global industry standards for testing electrosurgical devices including ANSI/AAMI and IEC. It is easy to set-up and use with a large LCD screen and on-screen guides. It also features built-in automation for quick power distribution testing. An optional Ansur test automation plug-in standardizes work, shortens overall test time and reduces error by automating preventative maintenance procedures with customized test templates and reports.



*The QA-ES III will be offered worldwide. Wireless capabilities will initially be available in the U.S., Canada, and Europe (except Russia), and roll-out to other countries, starting in early March 2016.



About Fluke Biomedical

Trusted for the measurements that matter.

Fluke Biomedical is the premier, global provider of test and measurement equipment and services to the healthcare industry. We serve biomedical engineers, quality-assurance technicians, medical physicists, oncologists and radiation-safety professionals and are continually expanding our range of solutions to a broader range of health and safety professionals. For more information, visit www.flukebiomedical.com.



For more information about Fluke Biomedical and Unfors RaySafe products, and request for photos, please contact:

Julie Lary

Marketing Coordinator

(425) 446-6006

julie.lary@flukebiomedical.com

More from Laboratory and Research Supplies and Equipment