Electrostatic Voltmeter features non-contact design.
Press Release Summary: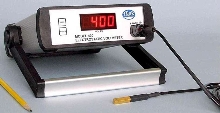 Built to measure and monitor electrostatic charge, Model 400 incorporates vibrating reed probe sensor and noise null control potentiometer. It can be used with single chopper probe or dual chopper probe, which provides response time of less than 200 µsec for 1 kV step response with zero phase lag. There is no overshoot or undershoot when measuring step voltage changes, and measurement accuracy is better than ±0.05% of reading ±0.5 V at monitor output.
---
Original Press Release:

TREK Introduces Its Newest High Performance Noncontacting Electrostatic Voltmeter


Model 400 provides greater accuracy, faster speed of response, and other features

Product Designed to Address Needs of Electrophotography Industry and R&D, and Other Applications Requiring Highly Accurate Electrostatic Charge Measurement/Monitoring

29 April 2005, Medina, NY (USA) - TREK, INC. announces the introduction of a new high performance non-contacting electrostatic voltmeter, Model 400, which provides greater accuracy, faster speed of response and other user-friendly features. This product responds to the need of the electrophotography industry for increased accuracy and speed for electrostatic voltage measurement. Model 400 is intended for use by original equipment manufacturers (OEMs) for electrophotography quality control, by industry R&D in the development of new electrophotographic products, and by university and industrial R&D for the purpose of exploring new technologies, techniques and applications relating to electrostatics. Model 400 also addresses the need for highly accurate static charge measurement/monitoring in other applications, such as manufacturing or research environments that are highly sensitive to static charge and/or electrostatic discharge events, and the problems they cause. These applications include semiconductor, electronics design and assembly (including LCD and hard disc drives), powder handling (chemical, pharmaceutical, ceramic and other materials), electrostatic painting/coating, test & measurement, instrumentation, quality control, materials evaluation, military, automotive, aerospace, medical/biomedical, and other static-sensitive applications and environments.

Commercial products that could benefit from the Model 400 Electrostatic Voltmeter include laser printers, digital printers, copiers and other products utilizing electrophotographic technology. Quality control applications within these devices include monitoring of photoreceptors, testing of developer and charger rollers, paper and other parts/components/elements for which a specific level of static charge must be maintained in order to produce the desired image quality.

Trek's Model 400 Electrostatic Voltmeter is a noncontacting, precision surface voltage measurement instrument that incorporates Trek's exclusive vibrating reed probe sensor and provides new features not previously available with any other voltmeter instrument in the marketplace.

These features include greater accuracy and faster speed of response which is insensitive to distance. Measurement accuracy is better than +/- 0.05% of reading +/- 0.5 volts at the monitor output and better than +/- 0.1% of reading +/- 1.0 volt at the DPM monitor. Compare this accuracy to that of other units in the market which provide accuracy to only 0.1% of full scale.

A dual chopper probe provides faster speed of response of less than 200 microseconds for a 1 kV step response, with zero phase lag, thus allowing the Model 400 to measure rapidly changing surface potentials.

A unique feature of Model 400 is that either the dual chopper probe (for applications needing higher speed of response) or the single chopper probe (for applications needing low noise) can be used with Model 400.

The frequency response of this unit is optimally flat over a wide range of probe-to-surface spacing. This means that there is no overshoot or undershoot when measuring step voltage changes.

A noise null control potentiometer allows the operator to null the output noise for whichever probe is being used. The benefit of this is that the user can achieve a very low noise level in order to more precisely detect the measured surface voltage.

Model 400 is CE marked. Standard unit pricing in the USA for Model 400 (including probe) starts at $3700 US Funds. For details on specifications, customizing options or other information please contact TREK, INC. at
585-798-3140 or via sales@trekinc.com.

TREK, INC. (est. 1968) is a privately held company that designs, manufactures and sells high performance electrostatic measurement instruments, sensors & monitors, and high voltage amplifiers, power supplies & generators. Trek's products are used by OEMs involved in semiconductor manufacturing and electrophotography; in applications sensitive to electrostatic discharge (ESD); and by companies and universities involved in a wide variety of research applications, including electrostatics, electrophotography, piezoelectrics, electrohydrodynamics, and plasma chemistry. Customers include numerous Fortune 500 companies and leading universities. For more information call 585-798-3140, or go to www.trekinc.com.

More from Sensors, Monitors & Transducers