Pressure Sensors / Detectors / Transducers
Electropneumatic Transducers are field reversible.
Press Release Summary: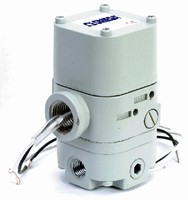 Factory-calibrated for direct-acting operation, Series IP211/EP211 decreases supply pressure, converting it to regulated output pressure in direct proportion to electrical input signal. Units accept supply pressures from 3 psig above max output to 100 psig. Integral pneumatic volume booster provides flow capacity up to 12 scfm. Series incorporates general purpose, FM intrinsically safe, and CSA intrinsically safe models, all of which mount at any angle.
---
Original Press Release:

General Purpose Electropneumatic Transducers - IP211 and EP211



Economically priced but rich in features, the new IP211/EP211 Series from OMEGA consists of electropneumatic transducers that decrease supply pressure, converting it to regulated output pressure in direct proportion to an electrical input signal. The IP211/EP211 Series accepts a wide range of supply pressures, from 3 psig (0.2 bar) above the maximum output to 100 psig (6.9 bar). An integral pneumatic volume booster provides high flow capacity-up to 12 SCFM.

Factory-calibrated for direct-acting operation, these transducers are field reversible. If used in reverse-acting mode, they require recalibration after the polarity of the signal leads is reversed. The series incorporates general purpose, FM intrinsically safe and CSA intrinsically safe models, all of which mount at any angle. (Non-vertical mounting requires recalibration of the zero adjustment.) Small and lightweight, IP211/EP211 models can be pipe, panel or bracket mounted.

Price starts at $285.

For more information, go to the OMEGA Engineering Inc. web site at
http://www.omega.com/Pressure/pdf/ip211_ep211.pdf


Related