Electronics Upgrade extends metal detector capabilities.
Press Release Summary: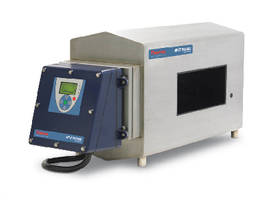 With APEX Upgrade, metal detector platforms based on DSP3 architecture currently installed in food/pharmaceutical manufacturing facilities can meet more stringent quality standards by detecting smaller diameter metal contaminants. Optimized sensitivity also minimizes rework and scrap caused by occasional false rejects. By employing Intellitrack XR software, APEX Upgrade eliminates need for setup adjustments. Food-grade ABS control panel withstands shock, vibration, water, and cleaning solutions.
---
Original Press Release:

APEX Upgrade Extends Metal Detector Capabilities



Food processors now have an affordable way to improve metal contaminant detection



MINNEAPOLIS  – A cost-effective way to extend life and improve functionality for select Thermo Scientific metal detector platforms is now available via the Thermo Scientific APEX Upgrade. Thousands of units based on the DSP3 architecture currently installed in food and pharmaceutical manufacturing facilities worldwide now can be upgraded to APEX electronics and software in a few short hours for less than the cost of a new metal detector.



On-site or factory installation of the APEX Upgrade by a Thermo Fisher Scientific field service professional can help processors meet new, more stringent quality standards with the ability to detect smaller diameter metal contaminants. In addition, the improved sensitivity reduces rework and scrap caused by occasional false rejects. Maintenance and training also can be simplified via a common user interface if the plant has both APEX and DSP3 platform metal detectors.



Thermo Fisher designed the APEX metal detector upgrade to eliminate the need for setup adjustments by employing Thermo Scientific Intellitrack XR (IXR) software. Intellitrack features a signal processing approach that addresses the unique challenges of detecting smaller diameter metals in products that higher product effect. This occurs when a product has a conductive property, which affects the magnetic field generated by the metal detector. This is typically found in high salt, high moisture product environments.



The new streamlined, design simplifies installation and improves reliability.  Thermo Fisher designed the food-grade ABS control panel to easily handle shock, vibration, water and various cleaning solutions.  An innovative, touch-panel keypad has no moving parts which improves long-term reliability.



"We wanted to provide processors with a cost-effective way to enhance the life of their older Thermo Scientific metal detectors by providing a quick path to enhanced functionality.  We believe the APEX Upgrade capability does just that," said Bob Ries, lead product manager, metal detection and X-ray inspection, Thermo Fisher Scientific. 



For more about Thermo Scientific product inspection equipment, please visit: www.thermoscientific.com/productinspection.



About Thermo Fisher Scientific

Thermo Fisher Scientific Inc. is the world leader in serving science, with revenues of $17 billion and approximately 50,000 employees in 50 countries. Our mission is to enable our customers to make the world healthier, cleaner and safer. We help our customers accelerate life sciences research, solve complex analytical challenges, improve patient diagnostics and increase laboratory productivity. Through our premier brands – Thermo Scientific, Applied Biosystems, Invitrogen, Fisher Scientific and Unity Lab Services – we offer an unmatched combination of innovative technologies, purchasing convenience and comprehensive support. For more information, please visit www.thermofisher.com.



Sales inquiries:

Thermo Fisher Scientific

Product Inspection

501 90th Avenue NW

Minneapolis, MN 55433 USA

phone: +1 763 783-2500

email: sales.packaging.us@thermofisher.com

www.thermoscientific.com/productinspection









More from Electronic Components & Devices