Electronic Transformers are UL 2108 compliant.
Press Release Summary: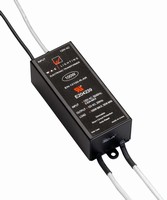 Engineered for low voltage lighting systems, Electronic Transformers provide thermal overload protection in environment where case temperature rises above 120°C. They automatically shut down and continue to cycle until temperature falls below 120°C threshold. Auto reset function protects against normal and abnormal short circuits for minimum of 8 hr, while Soft start technology protects lamps and transformers on cold start-ups, applying voltage gradually.
---
Original Press Release:

W.A.C. Lighting Introduces New Series of Electronic Transformers to Meet New UL Standard 2108



GARDEN CITY, NY--- To meet the new UL standard (2108) for low voltage lighting systems, W.A.C. Lighting introduces a new series of Electronic Transformers engineered with new technologies, thermal overload and improved short circuit protection. W.A.C. Lighting is a leading designer and manufacturer of track, recessed, undercabinet, decorative and monorail lighting.

Providing an increased margin of safety, the transformers are protected against both normal and abnormal short circuits for at least eight hours, using an improved "auto reset" function.

"Soft start" technology protects both lamps and transformers on cold start-ups, applying voltage gradually and significantly extending transformer and lamp life.

Utilizing the latest surface mount technology, W.A.C. Lighting's new Electronic Transformers have been reduced in size by 25 percent. Heat dissipation of their internal components has been improved, as well as their reliability and effectiveness.

In addition, the new transformers provide thermal overload protection in an environment where the case temperature rises above 120° C. The transformers will automatically shut down and continue to cycle until the temperature falls below the 120° C threshold.

The new transformers achieve best results by dimming with electronic low voltage dimmer switches, to provide smooth operation and better efficiency. They have been tested for noise level and performance with Lutron ELV dimmers.

New technology is available in Electronic Transformers from 60 to 150 watts in 12 volts, and 150 watts in 24 volts, as well as Class II 60W transformers (available in hard wire or "plug in" versions). All Electronic Transformers (including 250 watts in 12 volts and 300 watts in 24 volts) comply with the newly developed UL 2108 standard, effective in 2007 and devoted solely to low voltage luminaires.

About W.A.C. Lighting

W.A.C. Lighting has developed a stellar reputation for a high quality product line backed by an extraordinary level of service. Superlative customer service features an unprecedented shipping record (96% of orders shipped within 48 hours), a state-of-the-art SAP software system; new service professionals; updated product literature (including a new full-size catalog and mini catalogs for dealers'
customers), and a strong lineup of point-of-purchase displays.

The firm also offers extensive manufacturing capabilities, product development and engineering in its ISO 9001-certified, production facilities and offices in China, as well as a west coast distribution center and offices in City of Industry, Calif., and an expanded corporate headquarters and east coast distribution center in Garden City, NY.

Innovative and integrated systems technology are hallmarks of the W.A.C. Lighting product line. Most recently the firm has introduced more than 60 blown-glass pendants, decorative wall sconces, surface mounted pan fixtures, display lights, a builder line of undercabinet lighting, CFL pendants and sconces, and a new Bronze Finish for the low voltage monorail.

Its vast line includes: a Low Voltage Monorail System; a Line and Low Voltage Recessed Line; Undercabinet Lighting; and Crystal Beauty Spots.
Also offered are Glass Companion Wall Sconces and Pendants, Counter Balance Adjustables, Monopoints and Multipoints; Five Track Systems including a 12v/24v Linear System; and Accessories. Market-Leading electronic transformer technology makes it possible for W.A.C. Lighting to offer a complete lighting systems solution.

W.A.C. Lighting is headquartered at:
615 South Street
Garden City
New York 11530
phone: 1.800.526.2588
fax: 1.800.526.2585
email: info@waclighting.com
website: www.waclighting.com

More from Mechanical Components and Assemblies