Electronic Module cleans up encoder signals.
Press Release Summary: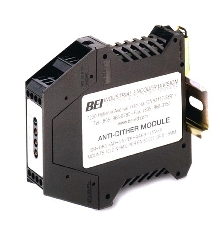 Anti-Dither Module can be placed between encoder and receiving electronics. DIN rail mountable device compares quadrature outputs from encoder, removes errors caused by mechanical vibration, and gives true picture of system output. Applications include web processes, conveyors, in-line inspection stations, and heavy equipment.
---
Original Press Release:

Anti-Dither Module Prevents System Resets


Goleta, CA -- Controller seeing too many counts? Losing position in your control system? High vibration environment causing false counts? BEI's DIN rail mountable electronic module can help. By comparing the quadrature outputs on your encoder, the Anti-Dither Module can remove the unwanted part of the signal and give you a true picture of your system output. Web processes, conveyors, in-line inspection stations, and heavy equipment operations are all subject to possible system errors caused by mechanical vibration. This causes jitter on the encoder signal and subsequent position and speed errors in the control electronics. BEI's Anti-Dither Module, placed between the encoder and the receiving electronics, removes this type of error making sure the real data signal ends up at the controller.

BEI Technologies, Inc. (Nasdaq: BEIQ) is an established manufacturer of electronic sensors and motion control products used for factory and office automation, medical and scientific equipment, military, aviation and space systems, and transportation equipment including automobiles, trucks and off- road equipment. The company's product portfolio includes optical encoders, brushless DC motors, voice coil actuators, potentiometric position sensors, quartz microelectromechanical (MEMS) rotation rate sensors, pressure transducers, and servo systems.


More from Communication Systems & Equipment