Electronic Mixing Center offers 0-75 or 0-150 gpm capacities.
Press Release Summary: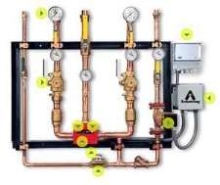 Rada® EMC is supplied as pre-plumbed, frame-mounted package. Three-temperature programming capability is provided through control module, which can also serve as portal to building automation system. Control module receives remote set point signal and transmits mixed water temperature signal using 4-20 mA or 0-10 V signals. BAS integration lets user remotely adjust mixing valve's set point, trend temperature, log data, and determine temperature out-of-range conditions.
---
Original Press Release:

EMC Electronic Mixing Center


Rada® Electronic Mixing Centers (EMC) from Armstrong are supplied as preplumbed frame-mounted packages and are available in 0-75 GPM (0-273 LPM) and 0-150 GPM (0-568 LPM) capacities. With 20-25 hours of site-based labor removed from the installation side of the equation, EMC assemblies are sensibly priced.

EMC System Flush Helps Combat Legionellae Threat. High-temperature system disinfection - often referred to as system flush - has proved effective in purging bio-film from the system pipework.

Legionellae and Temperature
o Below 680F (200C) legionellae can survive but are dormant
o Legionellae growth range (680F-1220F; 200C-500C)
o Ideal growth range (950F-1150F; 350C-460C)
o Above 1220F (500C) legionellae can survive but do not multiply
o At 1300F (540C) legionellae die within 5 to 6 hours
o At 1400F (600C) legionellae die within 32 minutes
o At 1500F (65.50C) legionellae die within 2 minutes
o Disinfection range (1580F-1760F; 700C-800C)

The Rada® EMC from Armstrong has three-temperature programming capability through its Rada control module. Where applicable, the Rada control module serves as the portal to a building automation system (BAS). The BAS offers multiple-temperature programming and should be used as the master-programming vehicle.

Automated over-temperature system flushing is suggested as an option but requires some forethought and analysis based upon the building type, occupancy and utilization. Clearly, automated system flushing would not be recommended for buildings with unlimited user access to point-of-use fixtures.

For sites with unlimited user access - or for locations where ultimate user safety is desired - Armstrong is developing a "Product." The "Product" uses solenoid valves on the drops from the primary recirculating loop to the fixtures, and isolates flow to those fixtures during primary loop flush as a function of the Rada control module.

The "Product" can also be used to flush high-temperature water through the point-of-use fixture, using solenoids and by-pass lines at the shower fixture. For safety purposes, motion sensors installed at or near the point of use are installed to alert and shut down the system flush when a potential user is present.

This EMC live site will soon be equipped with the Armstrong "Product" for demonstration purposes and product launch.

Here is what one plant director has to say about the new EMC from Armstrong.

"The Electronic Mixing Station for domestic hot water has been a win-win for (our hospital) on how we take care of our patients."

Max Callis
Physical plant director for a state hospital EMC Interfaces With Building Automation Systems (BAS). Third-Party BAS

The Rada® EMC has a third-party BAS interface capability. When specified, the EMC is supplied prewired to a Rada control module, which receives a remote set point signal and transmits the mixed water temperature signal using 4-20 ma or 0-10V signals. With the BAS interface, we can communicate using the 4-20 ma or 0-10V signals, or we can provide an interface module that connects the EMC to the BAS network. A BAS integration lets the user remotely adjust the mixing valve's set point, trend temperature, log data, determine temperature "out-of-range" conditions, and take advantage of other BAS features.

Energy Optimization System (EOS)
To support the Rada EMC in applications where building/system automation is desired but where there is no opportunity to engage with an existing third-party BMS, Armstrong offers EOS. For more information about how the EOS system can work with your building automation system, contact marketing@armstrong-intl.com for a free EOS CD presentation.

More from Architectural & Civil Engineering Products