Electronic Joystick is Safety Integrity Level 2 certified.
Press Release Summary: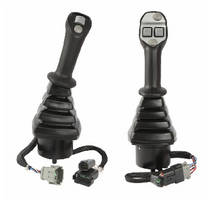 Offering SIL2 and Performance Level d capability, plug-and-play 4THEC5 SIL2 Machine Joystick incorporates contactless sensor technology and has been validated for 5 million cycles. For each control element, 2 position sensors send separate signals to 2 microcontrollers, which check consistency of information using software. Redundant architecture ensures signals on bus are fully safe as defined by applied standards. Joystick is compatible with BODAS, CANOpen, and J1939 protocols.
---
Original Press Release:

Bosch Rexroth SIL2 Joysticks Set New Standards in Machine Safety



New generation of SIL2-certified Rexroth electronic joystick



SIL2 Plug and Play: no additional external supervision for joystick functions required

Easy integration, compact and robust: validated for 5 million cycles

Safety Integrity Level (SIL) 2 certification for safety functions based on IEC 62061, Performance Level (PL) d capability based on ISO 13849



Since the European Machinery Directive 2006/42/EC has come into effect in 29 December 2009, machine manufacturers have to comply with and therefore have to assess the risks resulting from their machinery. An important measure for risk reduction is functional safety, e.g. based on the harmonized standards IEC 62061 and ISO 13849. The new Rexroth joystick 4THEC5 SIL2 is a key component for advanced mobile working machines and offers a unique solution. The Rexroth device is fully SIL2/PL d capable including handgrip functions (on/off push buttons and rockers, proportional rollers). In addition, its design increases robustness, safety and user ergonomics.



Manufacturers who need to offer safety-related functions on their machines can simply incorporate this "plug & play" unit into their safety system, because the electronic module manages signals from the joystick and provides the interface with the machine wiring on a single 4-pin connector.



With its unique SIL2 and Performance Level d capability, the joystick supports the machine manufacturers who are facing the assessment of the safety level of their products to achieve a certificate of European conformity. This safety level applies to all controls operated using the joystick (shaft and handle functions).



The 4THEC5 SIL2 is compact and robust and has been validated for 5 million cycles. It is suitable for a wide variety of demanding applications, particularly in construction and material handling machines. It is compatible with BODAS, CANOpen and J1939 protocols and can be used alongside the existing Rexroth range of multi-function handgrips to achieve any Human Machine Interface configuration an OEM may require. It features the comfortable ergonomics that users have come to expect from high quality joysticks.



To ensure maximum reliability, the 4THEC5 SIL2 joystick incorporates contactless sensor technology. Internal product architecture features total redundancy for all data flows. For each control element, two position sensors send separate signals to two microcontrollers, which check the consistency of the information using software specially developed by Bosch Rexroth. This redundant architecture ensures that the signals on the bus are fully safe as defined by the applied standards.



About Bosch Rexroth:                               

Economical, precise, safe, and energy efficient: drive and control technology from Bosch Rexroth moves machines and systems of any size. The company bundles global application experience in the market segments of Mobile Applications, Machinery Applications and Engineering, Factory Automation, and Renewable Energies to develop innovative components as well as tailored system solutions and services. Bosch Rexroth offers its customers hydraulics, electric drives and controls, gear technology, and linear motion and assembly technology all from one source. With locations in over 80 countries, more than 36,700 associates generated sales revenue of approximately 5.7 billion euros ($7.6 billion) in 2013. To learn more, please visit www.boschrexroth.com/en/us.



About Bosch:

The Bosch Group is a leading global supplier of technology and services. According to preliminary figures, its roughly 281,000 associates generated sales of 46.4 billion euros ($61.6 billion)  in 2013 (Note: due to a change in the legal rules governing consolidation, the 2013 figures can only be compared to a limited extent with the 2012 figures). Its operations are divided into four business sectors: Automotive Technology, Industrial Technology, Consumer Goods, and Energy and Building Technology. The Bosch Group comprises Robert Bosch GmbH and its more than 360 subsidiaries and regional companies in some 50 countries. If its sales and service partners are included, then Bosch is represented in roughly 150 countries. This worldwide development, manufacturing, and sales network is the foundation for further growth. In 2013, Bosch applied for some 5,000 patents worldwide. The Bosch Group's products and services are designed to fascinate, and to improve the quality of life by providing solutions which are both innovative and beneficial. In this way, the company offers technology worldwide that is "Invented for life." Additional information is available online at www.bosch.com, www.bosch-press.com and http://twitter.com/BoschPresse.



In the U.S., Canada and Mexico, the Bosch Group manufactures and markets automotive original equipment and aftermarket products, industrial drives and control technology, power tools, security and communication systems, packaging technology, thermotechnology, household appliances, healthcare telemedicine and software solutions. For more information, please visit www.boschusa.com, www.bosch.com.mx and www.bosch.ca.



Contact for Journalists:

Bosch Rexroth Corporation

Susan Strauss

2315 City Line Road

Bethlehem, PA 18017

Telephone (610) 694-8352

Fax (610) 694-8352

susan.strauss@boschrexroth-us.com

More from Electronic Components & Devices