Electronic Fuse suits inrush current limiting applications.
Press Release Summary: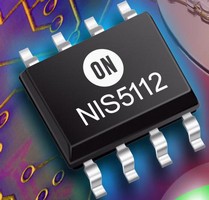 Designed for safe insertion and removal of equipment into 12 V backplanes, NIS5112 integrated self-protected, resettable, electronic fuse utilizes high side N-channel FET, driven by internal charge pump. With input voltage range of 9-18 V, device contains circuits to control turn-on voltage, output current, die temperature, turn-on di/dt and turn-on dV/dt, and enable/timer function. Thermal protection circuit is available in 2 thermal limit versions, auto-retry, and latch off.
---
Original Press Release:

ON Semiconductor Introduces a Self-Protected Electronic Fuse for Inrush Current Limiting Applications



The NIS5112 integrated high-side switch features a SENSEFET(TM) which allows for current sensing, using inexpensive chip resistors instead of expensive, low impedance current shunts

PHOENIX, Ariz. - April 10, 2006 - A global supplier of advanced power management solutions, ON Semiconductor (Nasdaq: ONNN) today announced a new member of its SMART HotPlug(TM) family with the introduction of the NIS5112 - an integrated self-protected, resettable, electronic fuse that utilizes a high side N-channel FET, driven by an internal charge pump. Designed for use in 12 volt (V) systems, the NIS5112 provides a cost-effective inrush current limiting solution for hot swap applications such as Enterprise class hard drives.

"Utilizing the NIS5112, a designer can implement a reliable feature packed solution to inrush current limiting with only a few low cost components." said Barry Brinkman, marketing manager for ON Semiconductor's Smart HotPlug(TM) products. "Prior to the introduction of this device, designers have had to implement a discrete solution that included up to 11 different components."

Designed to allow the safe insertion and removal of equipment into 12 V backplanes, the NIS5112 utilizes an internal SENSEFET(TM) that enables active current limiting via inexpensive chip resistors instead of more expensive, low impedance current shunts. Coupled with an adjustable voltage slew rate, the NIS5112 allows the designer the versatility to easily select the level at which current is limited and the rate the output voltage comes up for multiple applications. The NIS5112 has an input voltage range of 9 V to 18 V and also provides overvoltage protection intended to allow operation through transients while protecting the load. This device also contains circuits to control the turn-on voltage, output current, die temperature, turn-on di/dt and turn-on dV/dt, as well as an enable/timer function. It offers robust thermal protection circuit in two different thermal limit versions, auto-retry and latch off.

Features
o Integrated Power Device
o Thermal Limit Protection
o No External Shunt Required
o Internal Charge Pump
o 9V to 18V Input Range
o 30 m ohms Typical

Applications
o Hard Drives
o Computing

Package and Pricing
The NIS5112D1R2G (Latch) and NIS5112D2R2G (Retry) are offered in a lead free, SO-8 package and priced at $1.15 per unit in 2,500 unit quantities. Samples are available. For additional information visit onsemi.com/tech or contact Barry Brinkman at barry.brinkman@onsemi.com.

About ON Semiconductor
With its global logistics network and strong portfolio of power semiconductor devices, ON Semiconductor (Nasdaq: ONNN) is a preferred supplier of power solutions to engineers, purchasing professionals, distributors and contract manufacturers in the computer, cell phone, portable devices, automotive and industrial markets. For more information, please visit ON Semiconductor's website at onsemi.com.

Anne Spitza
Marketing Communications
ON Semiconductor
(602) 244-6398
anne.spitza@onsemi.com

More from Electronic Components & Devices