Electronic Filing System is OSHA and ADA compliant.
Press Release Summary: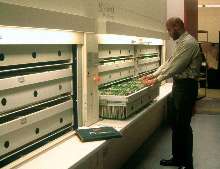 Electric Lateral File (ELF) system, actuated by one button push or barcode scan, brings files and items to operator. System consists of vertically arranged, rotating carriers controlled by electronic keypad or software and holds same number of files as traditional 4-drawer filing cabinets. MediaStation(TM) ELF delivers files and items to operator at convenient work height, which eliminates reaching, walking, and searching.
---
Original Press Release:

MegaStar Systems Electric Lateral File Systems Increase Productivity and Efficiency While Decreasing Walk and Search Time


Industry statistics show that warehousing clerks and support staff waste up to 2/3 of their time walking and searching when using standard four drawer vertical and lateral file cabinets. MegaStar Systems Electric Lateral File systems (ELF) bring files and items to the operator with a touch of a button, scan of a barcode or push of a button, dramatically increasing workers productivity.

The ELF system is a series of vertically arranged rotating carriers controlled by an electronic keypad or software. It is designed to replace less efficient filing cabinets, shelving, mobile, and rotary filing systems, and holds the same number of files as traditional four-drawer filing cabinets or lateral files in 50 to 60 percent less space.

When selecting the most effective filing systems, efficiency and increased productivity are what companies look for. Filing systems can be measured in people and filing actions per hour and required floor space. MegaStar's multi-media ELF Systems provide increased efficiencies to allow organizations to maximize their operations.

MegaStar Systems offers a MediaStation(TM) ELF that is ergonomically designed to deliver files and items to the operator at a convenient work height called the "Golden Zone." This virtually eliminates all reaching, walking, and searching allowing the operators to spend their time more productively. The MediaStation Electric Lateral File can provide up to 160% more capacity in your existing space, or reduce your existing floor space requirements by 60%.

Because office personnel don't have to spend time manually retrieving files, productivity in applications can improve up to 56 percent. Both the ergonomic design and operation of the MegaStar MediaStation ELF are fully compliant with the Americans with Disabilities Act (ADA) and OSHA regulations, and the Uniform Federal Accessibility Standards (UFAS) for forward and side reach, clearance under the work counter, and control accessibility guidelines.

MegaStar Systems, a company of the Kardex AG Remstar International (KRI) Group of Zurich, Switzerland, is a leading provider of automated storage and retrieval systems for office, manufacturing and warehousing applications. For more information on the MegaStar Systems call 800-639-5805 or visit the MegaStar Systems web site at www.MegaStarSystems.com.

More from Electrical Equipment & Systems