Electronic Counter transmits totals via Ethernet, 4-20 mA outputs.
Press Release Summary: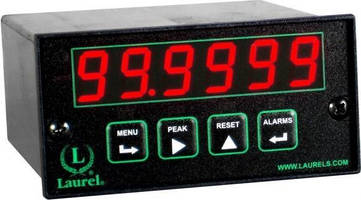 Available in Basic and Extended versions, ETL-rated L60007FR can output totals digitally via Ethernet I/O as well as scaled, isolated 4–20 mA analog signal. Dual channels A and B can be independently scaled to count up from zero (or other value) to preset limit or down from preset value to zero (or other limit). Input flexibility is provided by universal dual-channel signal conditioner, and counter also has built-in isolated 5, 10, or 24 Vdc excitation supply.
---
Original Press Release:

Counter Transmits Totals via Ethernet and 4-20 mA Analog Outputs



Costa Mesa, CA — Laurel Electronics, Inc. announces the ETL-rated dual-channel L60007FR counter which can output totals digitally via Ethernet I/O and also as a scaled, isolated 4-20 mA analog signal. Dual channels A and B can be independently scaled to count up from zero (or other value) to a preset limit, or to count down from a preset value to zero (or other limit).



In the Basic counter version, the six-digit counter display can display any value from -999,999 to 999,999 with a programmable decimal point. Scaling allows direct readout in engineering units, such as gallons or cubic feet based on counts from a turbine flow meter. The displayed channel (A or B) is selected via a front panel pushbutton. Totals are stored in non-volatile memory.



An Extended counter version provides capabilities beyond those of the Basic counter, namely rate and total simultaneously, up/down counting with dynamic change of the count direction, totalizing with external inhibit, custom curve linearization, and arithmetic functions applied to channels A and B: A+B, A-B, AxB, A/B and A/B-1.



Ethernet connectivity is provided by an Ethernet interface option board which plugs into the host counter. A 10/100Base-T Ethernet interface is via an industry-standard RJ45 connector. It allows multiple meters and counters, each with their own Ethernet cable, to be connected to a local area network (LAN) or to the Internet via a router, or directly to a host computer via an Ethernet cable.



LAN and Internet connectivity are supported in software so that the meter can be read and set up remotely. Downloadable Node Manager Software is used for discovery and setup of Laurel Nodes on a local area network. Web server software is also built into each Node and can be used to discover and configure Laurel Nodes over the Internet.



A scalable 4-20 mA or 0-10V analog is provided by a one- or two-channel analog output board. The analog outputs are galvanically isolated, and their two end points can be programmed to correspond to any two readings of counter channels A or B.



Input flexibility is provided by the counter's universal dual-channel signal conditioner, which can accept magnetic signals from 12 mV to 250 Vac as well as signals from proximity switches with a PNP or NPN output, TTL or CMOS logic, and contact closures. A built-in isolated 5, 10, or 24 Vdc excitation supply is standard to power proximity switches and other sensors.



Pricing is $240 for the Basic dual-channel counter L60000FR and $360 for model L60007FR with Ethernet connectivity.



For product specifications and options, visit www.laurels.com/totalizer.htm. For more information, contact Harald Weiss, Director of Marketing, at 714-434-6131, email sales@laurels.com.



Founded in 1990, Laurel Electronics, Inc. is a leading U.S. manufacturer of programmable industrial digital panel meters, counters, timers, and DIN rail transmitters.



Company Information:

Name: Laurel Electronics, Inc.

Address: 3183-G Airway Ave.

City: Costa Mesa

State: CA

Zip: 92626

Country: USA

Phone: 714-434-6131

Fax: 714-434-3766

Web: http://www.laurels.com

Email: sales@laurels.com

More from Electronic Components & Devices