Electronic Circuit Protector suits hazardous locations.
Press Release Summary: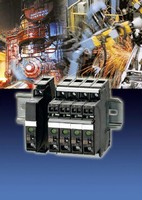 Available in fixed current ratings from 0.5-12 A, DIN rail mounted Model ESX10-T features Class I, Div 2 - Group A, B, C, and D, UL 1604 certification. Device combines electronic trip characteristics and active current limitation to allow selective disconnection of loads connected to 24 Vdc power supplies. Active current limitation limits highest possible current to 1.3-1.8 times rated capacity and is capable of switching on capacitive loads up to 20,000 µF.
---
Original Press Release:

E-T-A's ESX10-T Now with Class I, Division 2 - Group A, B, C and D Certification



For installation into Designs in Hazardous Locations

September 18, 2008 - E-T-A Circuit Breakers announces the ESX10-T Electronic Circuit Protector now with Class I, Division 2 - Group A, B, C and D, UL 1604 certification. The remarkably compact device combines purely electronic trip characteristics and active current limitation to allow selective disconnection of loads connected to 24VDC power supplies. Selective load protection prevents complete shutdown of the system by quickly disconnecting the faulty path when an overload or short circuit occurs.

Active current limitation allows the ESX10-T to respond much faster to overload or short-circuit conditions than the power supply. It limits the highest possible current to 1.3 to 1.8 times the rated capacity and is capable of switching on capacitive loads up to 20,000 µF - with disconnection only in the event of an overload or short circuit. Conventional protective elements cannot manage this as they either respond too slowly or are susceptible to nuisance tripping due to inrush currents.

Upon detection of an overload or short circuit in the load circuit, the power-MOSFET switching output of the ESX10-T interrupts the current flow at 1.1 times rated current after 3 seconds. Failure and status indication are provided by a multicolor LED and status output signal.

Specifications and Approvals

E-T-A's new ESX10-T Electronic Circuit Protector is just 2.76 inches high by 0.5 inch wide and allows direct mounting on a 35 mm din rail consequently simplifying installation and saving cabinet space. The ESX10-T is approved to UL 2367 as a "Solid State Overcurrent Protector" and is available in fixed current ratings from 0.5 - 12A. UL 1604 certified; Class I, Division 2, Group A, B, C, and D.

Applications

Typical applications for the ESX10-T include Automation systems (e.g., machine tool, packaging machines) and Process control systems (Petro/Chemical, Pharmaceutical, Food and Beverage, etc.) where selective disconnection is vital and an integral safety technology exists, such as a safety PLC or a similar system.

Availability

E-T-A's Type ESX10-T Electronic Circuit Protector is available from stock. For more information on the ESX10-T or any of E-T-A's broad selection electronic circuit protection devices and system solutions, call E-T-A at 1-800-462-9979 or visit www.e-t-a.com/electronic .

About E-T-A

E-T-A Circuit Breakers is a world leading manufacturer of circuit breakers and is a single-source supplier for most circuit protection technologies: thermal, thermal-magnetic, magnetic and high performance. E-T-A circuit breakers are available in more than 150 models and 350,000 different configurations. E-T-A is also a leading manufacturer of solid state remote power controllers (SSRPCs). All E-T-A circuit protection devices are RoHS compliant. With North American headquarters in Chicago, the company serves industrial OEMs and end-users.

Media Contact:

Ellen Raab - Communications Manager

E-T-A Circuit Breakers

847-827-7600 ext. 107

ellen.raab@e-t-a.com

More from Materials