Electronic Ballast offers multi-voltage capabilities.
Press Release Summary: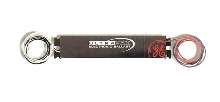 Ultramax(TM) Electronic Ballast runs on 120 or 277 V. Multi-Voltage Control can virtually read incoming voltage and adapt automatically to any voltage from 108-305 V. Anti-Striation Control reduces common barber-pole effect lines going across lamp, while Arc Guard eliminates damaging effects arcing can have on lamps, ballasts, and sockets. Ballasts for 2, 3, 4 and 8 ft T8 lamps are available in low watt, normal light output, and high light output.
---
Original Press Release:

GE Lighting Unveils New, Exclusive Ultramax(TM) Electronic Ballast


Industry First Combines Multi-Voltage Capabilities and High Energy Efficiency In One Ballast

CLEVELAND, OHIO -March 2003 -Property managers will be able to breathe a little easier this year, thanks to the innovative engineers at GE Lighting. The company is proud to announce the Ultramax(TM) Electronic ballast-the first ballast in the industry to combine multi-voltage capabilities with high energy efficiency. These state-of the-art features mean one ballast will run on 120 or 277 volts and fewer models will be needed to handle more jobs, eliminating inventory hassles.

Extremely energy efficient, the new UltraMax ballast delivers a significant cost savings-up to 40 percent over standard ballasted T12 systems. The GE Six Sigma process brings the latest technology and the highest production standards to the UltraMax Electronic Ballast line through Multi-Voltage Control (MVC) that can virtually "read" the incoming voltage and adapt automatically to any voltage from 108V to 305V.

In addition, the Multi-Voltage Control simplifies retrofits, new construction or replacement for standard ballasts and eliminates guesswork at the job site, as well as compensates for incoming voltage fluctuations or variations from unreliable power.

"Fluorescent systems combining UltraMax Electronic Ballasts are energy efficient, adaptable and deliver optimal lamp performance for commercial applications," said John Brelus, GE's General Manager of Ballast Products. "Offices, retailers, schools, industrial plants and hotels all benefit, as this energy efficient system can pay for itself in a very short time and provide an excellent return on investment."

The Ultramax ballast line is the first with Anti-Striation Control that reduces common 'barber pole effect' lines going across the lamp. It is also the first full line of T8 electronic ballasts to earn U.L's type C.C. rating, a feature called Arc Guard. The Arc Guard feature eliminates the damaging effects arcing can have on lamps, ballasts and sockets.

The full family of multi-voltage ballasts is available in all T8 applications. The ballasts for two, three, four and eight foot T8 lamps are available in three ballast factors: low watt, normal light output and high light output.

For more information on the UltraMax Ballast line of lamps or other GE products, visit www.gelighting.com or call 1-800-GE-LIGHT.

GE Consumer Products is an $8.5 billion business unit, providing products and services in the major appliance and lighting industries, manufacturing and selling more than 15 million appliances and 4 billion lamp products annually in over 150 world markets. General Electric (NYSE: GE)...imagination at work.

More from Electronic Components & Devices