Electronic Ballast is suited for HID lamps.
Press Release Summary: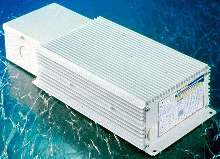 DynaVision(TM) microprocessor-based electronic ballast, designed for operation of 320, 350, or 400 W pulse-start metal halide lamps, is able to maintain lumen levels over lamp life. Product features IntelliVolt® technology, which permits operation on voltage systems ranging from 200-277 V. Additional offerings include continuous 0-10 V dimming down to 50% of lamp power and ability to directly control quartz auxiliary lamp up to 250 W.
---
Original Press Release:

Advance Introduces Dynavision(TM) - New Concept in Electronic Ballasts for HID Lamps


Advance Transformer Co., Rosemont, Illinois, has announced the introduction of DynaVision(TM), a new microprocessor-based electronic ballast for the operation of pulse-start metal halide lamps. Because of DynaVision's ability to maximize lamp lumen maintenance over life, a variety of cost saving opportunities are possible through energy savings and reduced re-lamping and maintenance.

"DynaVision represents a true breakthrough for metal halide lighting," said John Cummings, Advance's HID product manager. "Its innovative microprocessor-based lamp operation will bring fixture manufacturers, lighting specifiers and retail, commercial and industrial users a vast array of ways to realize greater value and operating performance from HID lighting. At the same time, we expect DynaVisioin to play a major role in expanding application possibilities for metal halide lighting systems."

The unprecedented lamp lumen maintenance capability of DynaVision is the key to the benefits provided. Conventional HID systems typically experience over a 50 percent fall-off in light output over the life of the lamp. Consequently, some end users re-lamp significantly earlier than rated lamp life. With DynaVision's ability to maintain greater light output longer, useful lamp life is dramatically extended. The resulting benefit is substantial savings in lamp replacement and labor costs.

DynaVision ballasts also lower costs through energy saving opportunities, either via the use of lower wattage lamps with an existing number of fixtures, or through reductions in the number of fixtures installed. In a scenario where the number of fixtures is unchanged, a DynaVision ballasted 320W lamp could be substituted to produce lumen levels at or above those provided by a 400W probe-start system. The result is a substantial reduction in watts per square foot.

Alternatively, energy savings can be achieved with DynaVision by reducing the number of fixtures utilized, thanks to the ballasts' ability to maintain lumen levels over lamp life. For example, a proposed installation with 100 fixtures equipped with conventional 400W probe-start metal halide lamps and ballasts could be altered to employ as few as 64 fixtures equipped with 400W pulse-start metal halide lamps driven by DynaVision ballasts. The DynaVision-based system would provide equivalent minimum light levels, resulting in lower operating and maintenance costs.

Another significant DynaVision advantage is its versatility. A DynaVision ballast will operate either a 320W, 350W or 400W pulse-start metal halide lamp, from any manufacturer, at its rated wattage level. DynaVision ballasts also feature Advance IntelliVolt® technology, permitting operation on different voltage systems, ranging from 200V to 277V.

Other important DynaVision features include continuous 0-10V dimming, down to 50 percent of lamp power, and the ability to directly control a quartz auxiliary lamp up to 250W.

Advance Transformer Co., a leading ballast manufacturer based in Rosemont, Illinois, designs, produces and sells a full line of magnetic and electronic ballasts for both fluorescent and HID lamps. For more information on Advance's complete product line, visit Advance's web site at www.advancetransformer.com or call Advance at (847) 390-5000. Advance is a division of Philips Electronics North America Corporation.

More from Machinery & Machining Tools