Electromechanical Relay Switches offer 10 million lifecycles.
Press Release Summary: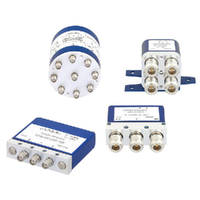 Covering ultra-broadband and millimeter-wave frequencies up to 40 GHz, RF Relay Switches are available in multiple varieties from SPDT to SP12T and are designed with SMA, Type-N, or 2.92 mm connectors, depending on frequency range. Units are rated from 5–700 W with operating voltage from +12 to +30 V, isolation up to 85 dB, and low insertion loss of 0.15 dB at 1 GHz. With MIL-STD-202 qualified construction, switches withstand exposure to sine and random vibration and mechanical shock.
---
Original Press Release:

Fairview Microwave Unveils Brand New Portfolio of Electromechanical Relay Switches



RF Relay Switches with Guaranteed Performance Up to 10 Million Life Cycles Introduced by Fairview Microwave



Allen, TX – Fairview Microwave Inc., a supplier of on-demand microwave and RF components, debuts a completely new portfolio of electromechanical relay switches that cover ultra-broadband and millimeter-wave frequencies up to 40 GHz. These high-reliability RF switches are guaranteed to perform up to 2 to 10 million life cycles, which make them an ideal solution for demanding industries and applications related to defense and commercial aviation, radar, wireless communications, satellite communications, test and measurement and many others.

                       

The new coaxial relay switches from Fairview Microwave are available in multiple varieties from SPDT (Single Pole Double Throw) to SP12T (Single Pole 12 Throw) and are designed with either SMA, Type-N, or 2.92mm depending on the frequency range. Frequencies for these RF switches range from DC to 40 GHz depending on the model, power ratings range from 5W to 700W, operating voltage ranges from +12V to +30V and have high isolation up to 85 dB and low insertion loss of 0.15 dB at 1 GHz.



Fairview's new relay switches have a patented design of the actuator and the transmission link has been optimized for magnetic efficiency and mechanical rigidity which is what guarantees operation up to 10 million life cycles. The MIL-STD-202 qualified construction of each switch is designed to withstand exposure to sine and random vibration and mechanical shock. Offered in this release are 42 in-stock designs which include 38 connectorized models and 4 surface-mount devices which boast a small footprint and lower cost than traditional connectorized packages.



"Our latest offering of high reliability relay switches provide our customers a new comprehensive selection of in-stock RF switches, not widely available off-the-shelf," explains Brian McCutcheon, Vice President and General Manager at Fairview Microwave. "With guaranteed performance up to 10 million life cycles on many models, these switches provide an excellent value to customers requiring long-term and accurate performance."



Fairview's electromechanical relay switches are in-stock and available today. You can view the RF switches by visiting http://www.fairviewmicrowave.com/rf-products/electromechanical-relay-switches.html . Fairview Microwave can be contacted at +1-949-261-1920.



About Fairview Microwave

A leader in RF products since 1972, Fairview Microwave is an ISO 9001:2008 certified manufacturer and supplier that offers the industry's largest selection of passive and active RF, microwave and millimeter wave products available for same-day shipping.



Press Contact:

Brian McCutcheon

6-13-2014 4-47-23 PM

(O) 972-649-6678 

(F) 972-649-6689

1130 Junction Dr. #100 

Allen, TX 75013

shaun@fairviewmicrowave.com  

www.fairviewmicrowave.com



More from Materials