Electromechanical Motion System drives simulation.
Press Release Summary: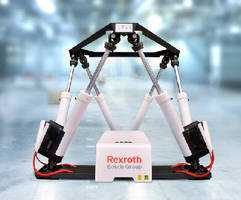 Available with 1,500 and 2,700 kg payloads, Electromechanical Motion System offers lifelong lubrication and fully integrated compensation for necessary static load. Design protects cabling and enables essential electronics and computer to be integrated. Terminals for power supply and motion computer are provided standard, and optionally for I/O, USB, or thermo-elements. Utilizing certified safety components, platform simulates passenger vehicles, trucks, trains, heavy equipment, and aircraft.
---
Original Press Release:
New Electromechanical Motion System for Driving Simulation by Bosch Rexroth
Featuring standardization, performance (including high payload) and design

Bosch Rexroth's successful motion platform range is extended with a brand new electromechanical variant. Because this design is built from standard components, the end user benefits from a driving and flight simulation application platform that combines reliability with a low cost of ownership. Additionally, performance in the areas of excursions, velocities, accelerations and noise is significantly improved.

Even before the first systems were actually built, Bosch Rexroth in the Netherlands had already taken multiple orders for their new electromechanical motion systems, which have been specially designed for driving simulation applications. The development of these motion platforms is a logical sequel to the successful first generation hydraulic systems (1986), and their successors, the fully electrically-driven systems (1996) for flight and driving simulators and cabin crew trainers.

Making maximum use of standard components
The new electromechanical variant was designed virtually from the ground up, making maximum possible use of components from Bosch Rexroth's own product line-up, such as spindles, motors, amplifiers, sheet metal parts and electronic control systems. With proven technologies and optimum service, the user has perfect peace of mind. The existing components, which are both stable and standardized, are also financially more attractive than components that need to be specially designed and manufactured for a specific application. Moreover, they offer all the necessary functionality and features to fulfil all of the system requirements.

New design generates savings
During the design process, the engineers made full use of the opportunity to optimize the performance of the new motion systems. For example: the noise level is lower compared to the previous generation of systems, the maximum payload is higher (systems with a payload of 1500 kg and 2700 kg are available standard), the space demands are smaller, and less maintenance is required.

The many improved features are largely due to the mechanical engineering, which incorporates lifelong lubrication and fully-integrated compensation for the necessary static load. Furthermore, space has been saved by placing the control technology below the system, rather than in a separate control cabinet adjacent to the platform.

Attractive and functional design
While the technical performance is impressive, it's the product design that catches the eye. Apart from the aesthetic added value, this superb styling also protects the cabling and enables the essential electronics and computer to be fully integrated into the design. Thanks to a smart mechanism, the 'nose' of the electronics cabinet can easily be opened, so that the user has ready access to the connections. Terminals for power supply and motion computer are provided standard, and optionally also for I / O and USB, or the connection of thermo-elements.

Safety and energy
The use of certified safety components means that the new electromechanical motion system is suitable for integration with safety-related applications. Typical applications are those that work with specific constraints, for example, position, speed and torque. At Bosch Rexroth, these standard possibilities for incorporating safety functions fall under the 'Safety on Board' program. In addition, the platform has been developed under Bosch Rexroth's 4EE (Rexroth for Energy Efficiency) philosophy, in which smart solutions significantly reduce the energy used by these systems, contributing in turn to a marked reduction in the Total Cost of Ownership.

Applications
The new motion platforms can be used for every imaginable vehicle simulation that mimics the characteristics of not just passenger vehicles, but also trucks, trains, heavy equipment, and of course - aircraft.

For more information: http://www.boschrexroth.com/motion

About Bosch Rexroth:  
Economical, precise, safe, and energy efficient: drive and control technology from Bosch Rexroth moves machines and systems of any size. The company bundles global application experience in the market segments of Mobile Applications, Machinery Applications and Engineering, Factory Automation, and Renewable Energies to develop innovative components as well as tailored system solutions and services. Bosch Rexroth offers its customers hydraulics, electric drives and controls, gear technology, and linear motion and assembly technology all from one source. With locations in over 80 countries, roughly 36,700 associates generated sales revenue of approximately 5.7 billion euros ($7.6 billion) in 2013. To learn more, please visit www.boschrexroth-us.com

About Bosch:
The Bosch Group is a leading global supplier of technology and services. In 2013, its roughly 281,000 associates generated sales of 46.1 billion euros ($61.2 billion.) (NB: Due to a change in accounting policies, the 2013 figures can only be compared to a limited extent with the 2012 figures). Its operations are divided into four business sectors: Mobility Solutions, Industrial Technology, Consumer Goods, and Energy and Building Technology. The Bosch Group comprises Robert Bosch GmbH and its roughly 360 subsidiaries and regional companies in some 50 countries. If its sales and service partners are included, then Bosch is represented in roughly 150 countries. This worldwide development, manufacturing, and sales network is the foundation for further growth. In 2013, the Bosch Group invested some 4.5 billion euros in research and development and applied for some 5,000 patents. This is an average of 20 patents per day. The Bosch Group's products and services are designed to fascinate, and to improve the quality of life by providing solutions which are both innovative and beneficial. In this way, the company offers technology worldwide that is "Invented for life." Additional information is available online at www.bosch.com, www.bosch-press.com and http://twitter.com/BoschPresse

In the U.S., Canada and Mexico, the Bosch Group manufactures and markets automotive original equipment and aftermarket products, industrial drives and control technology, power tools, security and communication systems, packaging technology, thermotechnology, household appliances, healthcare telemedicine and software solutions. For more information, please visit www.boschusa.com, www.bosch.com.mx and www.bosch.ca

Contact for Journalists:
Bosch Rexroth Corporation
Susan Strauss
2315 City Line Road
Bethlehem, PA 18017
Telephone (610) 694-8352
Fax (610) 694-8352
[email protected]