Electromagnetic Flowmeter suits concrete batching applications.
Press Release Summary: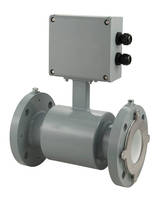 Utilizing electromagnetic flow metering technology, Modmag® M7600 achieves accuracy of ±0.5% of rate for velocities >1.64 fps and ±0.008 fps for rates <1.64 fps with repeatability of ±0.1%. Open cross-section design, which eliminates pressure loss and has no moving parts to impede stream, supports flow rates from 0.14–1,320 gpm. Suited for ½–4 in. pipes, product is offered with NEMA 4 and NEMA 4X weather-resistant transmitter enclosure options and can recognize empty pipe.
---
Original Press Release:

New Modmag® M7600 Electromagnetic Flow Meter Provides Ideal Solution for Concrete Batching Applications



MILWAUKEE, Wis. – Badger Meter announces the introduction of the M7600 electromagnetic flow meter, an addition to its accurate, high-performance ModMAG® family. The Badger Meter M7600 Flow Meter combines the most advanced electromagnetic flow metering technology, with a simple, yet robust output, providing an easy-to-use flow measurement solution for use in a wide range of concrete batching applications.



The M7600 electromagnetic flow meter achieves an accuracy of ± 0.5% of rate for velocities greater than 1.64 ft/s and ± 0.008 ft/s for flow rates less than 1.64 ft/s with a repeatability of ± 0.1%. Its rugged design ensures exceptional reliability in demanding environments. The meter features a non-intrusive open flow tube that virtually eliminates pressure loss, and with no moving parts to impede the flow stream, maintenance is kept to a minimum — even in less than ideal fluid conditions. The M7600 is the ideal metering device for clean or reclaimed water batching in ready mix, precast, prestress, and block plants, and requires minimal maintenance over a long operating period.



Greg Perona, product manager, Badger Meter, commented, "The M7600 electromagnetic flow meter was specifically developed for applications in harsh environments, such as concrete batching. Its fully-enclosed transmitter protects an internal LCD display and electronics from dirt, debris and other hazardous conditions. Plus, its rugged construction makes the meter ideal for operation in the concrete industry."



With a robust design, advanced electronics and signal processing, and the ability to perform unaffected, even with the presence of suspended solids in the pipe, ModMAG M7600 electromagnetic flow meters are an excellent choice for concrete batching applications. Reliable and accurate flow measurement in concrete batching enables companies to control material costs and ensure optimal finished product quality.



Specifications:

• Pipe size: 1/2...4 in. (15...100 mm)

• Accuracy: ± 0.5% of rate for velocities greater than 1.64 ft/s, ± 0.008 ft/s for flow rates less than 1.64 ft/s

• Repeatability: ± 0.1% of reading

• Flow range: 0.14...1320 gpm (0.53...5000 lpm)

• NEMA 4 and NEMA 4X weather-resistant transmitter enclosure options

• Power supply: 92...275V AC (9...36V DC)



Features & Advantages:

• Ability to recognize empty pipe

• Open cross-section design: no pressure loss, no moving parts, no maintenance required

• Unaffected by the presence of most suspended solids in the liquid

• Pulsed DC magnetic field for maximum zero point stability

• Two standard pulse outputs: solid-state relay and open collector output, compatible with most batch controllers and totalizer displays

• Programmable scale factor for batch accuracy compensation

• Long life, corrosion-resistant liner (PTFE)

• Complies with NIST Handbook HB44 for batching meters



For more information about the ModMAG M7600 electromagnetic flow meter, please visit www.badgermeter.com.



About Badger Meter

Badger Meter is an innovator in flow measurement, control products, and communications solutions, serving water utilities, municipalities, and commercial and industrial customers worldwide. The Company's products measure water, oil, chemicals, and other fluids, and are known for accuracy, long-lasting durability and for providing valuable and timely measurement data. For more information, visit www.badgermeter.com.



Contact Information:

Mike Pilger

mpilger@badgermeter.com

877-243-1010