Electromagnetic Flowmeter has single-point insertion design.
Press Release Summary: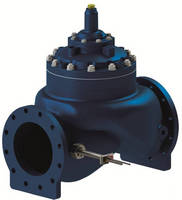 Utilized with metering valve or built into 106-2SC-PCO pilot system, Singer Model 106-SPI-MV delivers immediate operability and accuracy to 2% of reading throughout specified velocity range. Insertion probe extends into flow stream via one valve inlet connection and has bullet nose profile that eliminates clogging or buildup. With single-piece design that does not have any moving parts, removable sensor contains nothing to wear or break and is rated for continuous submergence.
---
Original Press Release:

Singer Valve's Launches the SPI-MV, a Breakthrough in Flow Metering



Surrey, BC – Singer Valve, a leading manufacturer of control valves recently joined forces with McCrometer to introduce the first Single Point Insertion Electro-Magnetic flowmeter.  The Singer Model 106-SPI-MV can be utilized with the metering valve as a standalone option or built into a 106-2SC-PCO pilot system to provide complete flow-based valve control.



"The breakthrough lies in the accuracy of this flowmeter and immediate implementation," said Mark Gimson, Business Development and Marketing Manager for Singer Valve.  The SPI-MV has been flow profiled and tested in McCrometer NIST traceable flow laboratory and is guaranteed accurate to the 2% of reading throughout the specified velocity range.   As it has already been profiled to match the Singer valve it works right out of the box.



The insertion probe extends into the flow stream, in one of the valve inlet connections and protrudes into the valve, equivalent to 1/8 of the valve diameter size. The bullet nose profile, eliminates clogging or build up and as a single piece design with no moving parts, the SPI-MV sensor contains nothing to wear or break.



The unit can be installed on any of the Singer Valve models from 4" (100mm) to 36" (900mm) valve sizes. It can be installed on either side of the valve on the inlet connection and only requires 3 pipe diameters upstream clearance.  The sensor is rated for continuous submergence and is removable. It only protrudes from the valve 4.6" to 6.3" and only requires 8" – 12" clearance for easy maintenance.  It is supplied with a convertor that not only gives an LCD readout screen but also gives a 4-20mA output along with 4 programmable digital outputs.



Singer will be showing this product at ACE 13 in Denver, booth number #4052



About Singer Valve

Since 1957 Singer Valve has been designing, manufacturing and distributing pilot operated diaphragm control valves.  With innovative technologies, the company provides solutions for water loss management, water conservation and urban water and wastewater distribution throughout the world.  By using quality materials and testing every valve and pilot before it is shipped, Singer Valve has an unprecedented track record for long lasting, easy to maintain solutions that work upon installation.  Singer Valve's electronic division provides instrumentation and control solutions to manage unique applications. For more information, go to www.singervalve.com.



Shore Communications

www.shorecommunications.ca

Ph: 604-729-9479

More from Printing & Duplicating Equipment