Electromagnetic Conveyors reduce metal contaminants.
Press Release Summary: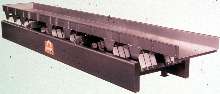 Combination VMC electromagnetic conveyor/metal detector units incorporate VC Metalarm Detector in 3 ft section of its trough. When metal is detected, conveyor can be stopped or reject gate can be activated. Products use proprietary AC electromagnetic drives, variable-rate control, and corrosion-resistant fiberglass springs. High-capacity, 2-mass units are capable of moving product at rates to 60 ft/min. and have no sliding or rotating parts.
---
Original Press Release:

High Capacity Conveyors with Integral Metal Detector


Erie, PA - August 2003 - Eriez' combination VMC electromagnetic conveyor / metal detector units reduce the dangers of metal contaminants in conveyed products. These high capacity energy efficient conveyors include a VC Metalarm Detector in a three-foot section of the conveyor's trough. When metal is detected, the conveyor can be stopped or a reject gate activated. Ideal for plastic, food, chemical and pharmaceutical process and packaging.

The VMC Series Electromagnetic Conveyors use Eriez' patented AC electromagnetic drives, a variable-rate control and corrosion-resistant fiberglass springs for precise conveying of bulk materials. These rugged, high-capacity, two-mass units capable of moving product 60 ft./min., have no sliding or rotating parts to wear out or belts and bearings to fail, providing years of trouble-free service.

The conveyor's integral VC Metalarm Metal Detector uses pulse induction electronics to power the search coils eliminating the need for "product adjustments."

Standard tray sizes range from 18 to 48-inches (457 to 1219mm) wide by 5 to 20-feet (1.5 to 6m) long. With an easy-to-clean design, VMC conveyors can be built to USDA specifications, operate at noise levels below 65 dBA and can be either base or suspension mounted.

For more information on Eriez' Conveyors and Metal Detectors, call toll free in the U.S. and Canada at (888) 300-(ERIEZ) 3743 or (814) 835-6000. For online visitors, go to www.eriez.com or send email to eriez@eriez.com.

Eriez is recognized as world authority in advanced technology for magnetic, vibratory and metal detection applications. The company's magnetic lift and separation, metal detection, materials feeding, screening and conveying equipment have application in the process, metalworking, packaging, recycling, mining, aggregate, textile and many other industries. Eriez manufactures and markets these products through ten international facilities located on five continents.

More from Electrical Equipment & Systems