Electromagnetic Brakes are designed for wind turbines.
Press Release Summary: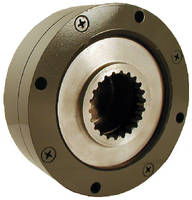 Electrically-released, spring-engaged brakes of ERS series serve as pitch brakes for wind turbine applications that require both static holding power and ability to withstand high inertia dynamic stops in emergency situation. Each electromagnetic brake is mounted outboard of inductive encoder, which is mounted to back of motor to position blades to proper pitch. Largest model, ERS68, has capacity of more than 20,000 fully-loaded dynamic stops and offers 100 lb-ft of static torque.
---
Original Press Release:
Warner Electric Develops Tough, New Brakes for Wind Turbines
SOUTH BELOIT, WI - The emergency braking requirements of today's large wind turbines under maximum wind conditions can be compared to those of a 40-ton mining truck driving down a 25% grade at 87 miles per hour with a cliff 1/4-mile ahead. To meet these demanding requirements, Warner Electric, an Altra Industrial Motion company, has modified its ERS series of electrically-released, spring-engaged brakes to serve as pitch brakes for wind turbine applications that require both "static" holding power and the ability to withstand high inertia dynamic stops in an emergency situation. The electromagnetic brake is mounted outboard of an inductive encoder which is mounted to the back of a motor to position the blades to the proper pitch. In normal use, the brake functions as a static brake to hold the blades from rotating in a power-off situation, during routine maintenance or for other reasons. However, the design spec for one major manufacturer requires the brake to also be able to make 1,000 fully loaded dynamic stops during its service life. The largest in the Warner Electric ERS series, the 11.3-pound ERS68, has been tested to a capacity of more than 20,000 fully-loaded dynamic stops, surpassing the design spec by a factor of 20. The ERS68 brake offers 100 ft. lbs. of static torque with a maximum of 2,000 RPM and a brake release time of 0.2 sec. The new blade pitch brakes also offer the advantage of being a one-piece design, fully-enclosed and painted to withstand extreme environmental conditions (salt-spray, condensation, water, etc.) Previous to the new design, pitch brake models have utilized two-piece designs that require an adapter plate, extra fasteners and an external boot-type seal in the gap between the brake and the adapter plate to prevent contamination. Warner Electric has also developed a series of static holding brakes that meet the strict design criteria for controlling yaw when the wind turbine nacel is positioned into the wind. For this technically simpler application, the yaw brakes are also mounted on the back end of a motor. Typically three pitch brakes and four to five yaw brakes are installed for motion control in the nacelle of each wind turbine. In addition to Warner Electric, four other Altra companies offer power transmission solutions for wind turbine manufacturers. Warner Electric's sister company, Warner Electric Europe, has developed electromagnetic brakes for two unique European-designed wind turbines, the Vertical Axis Wind Turbine and the Wind Wall, an urban wind turbine designed to be sited on roofs or sides of buildings in windy metro areas. Altra brands Wichita Clutch and Twiflex Ltd., offer disc and caliper brakes for wind turbine applications, and Formsprag Clutch, Warren MI, has developed backstopping clutches for wind turbines. For more information on the new Warner Electric wind turbine brakes, contact Tim Heikkinen, Warner Electric OEM Sales Manager, at 262-392-2071 or visit www.warnerelectric.com. About Altra Industrial Motion Warner Electric is one of the well-recognized brands of Altra Industrial Motion (NASDAQ:AMIC), a leading multinational designer, producer and marketer of a wide range of electromechanical power transmission products. Altra brings together strong brands covering over 40 product lines with production facilities in nine countries. Altra's leading brands include Boston Gear, Warner Electric, TB Wood's, Formsprag Clutch, Wichita Clutch, Industrial Clutch, Ameridrives Couplings, Kilian Manufacturing, Marland Clutch, Nuttall Gear, Stieber Clutch, Twiflex Limited, Bibby Transmissions, Matrix International, Inertia Dynamics, Huco-Dynatork, Ameridrives Power Transmission, Delroyd Worm Gear and Warner Linear. For information on any of these technology leaders, visit www.AltraMotion.com. For further information, contact Jack Broughton, PR Account Executive, Heinzeroth Marketing Group, 415 Y Blvd., Rockford, IL 61107. Tel 815-967-0929 ext 25. Email jackb@heinzeroth.com. www.heinzeroth.com Or contact David Brooksbank, Director of Marketing, Altra Industrial Motion, 449 Gardner St., South Beloit, IL 61080. Tel 815-389-6227. Email david.brooksbank@altramotion.com. www.AltraMotion.com
More from Sensors, Monitors & Transducers