Electrolyzer Systems increase capacity for water disinfection.
Press Release Summary: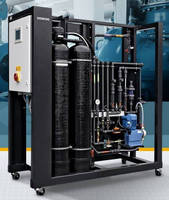 Mounted on skid, Osec B-Pak tubular cell electrolyzer systems generate 0.8% sodium hypochlorite solution as-needed and on-site from water and salt for disinfecting drinking, process, and swimming pool water. Largest model, OSEC B-Pak 260, produces up to 5 kg/hr of chlorine or 120 kg/day. Eliminating dangers of storing/transporting chlorine gas or commercially available sodium hypochlorite, systems feature electrolyzer cell in clear acrylic enclosure and fully automated control system.
---
Original Press Release:

Siemens Expands Capacity Range of Electrolyzer Product Portfolio for Water Disinfection



The Siemens Industry Automation Division has added four tubular cell electrolyzer systems to its water disinfection portfolio. The new Osec B-Pak products have an enhanced, compact construction and a newly designed electrolyzer cell. The tubular cell electrolyzer systems from Siemens generate a 0.8 percent sodium hypochlorite solution from water and salt for disinfecting drinking, process and swimming pool water.

Available in four new capacities, Osec B-Pak tubular cell electrolyzer systems from the Siemens Industry Automation Division extend the output range of the company's water disinfection portfolio. The largest model, the OSEC B-Pak 260 system, can produce up to five kilograms of chlorine per hour or 120 kilograms of chlorine per day. Producing the sodium hypochlorite as-needed and on-site eliminates the dangers involved in storing and transporting chlorine gas or commercially available sodium hypochlorite solution. As it is also cheaper to operate an OSEC B-Pak system than to buy sodium hypochlorite, the initial capital cost pays off quickly.

The newly developed systems are compact and mounted on a skid to save space, easy to operate, and designed for a long service life. The core component is a newly designed, especially robust electrolyzer cell in a clear acrylic enclosure that produces a stable disinfectant solution. The low-concentration solution minimizes corrosion and degradation - loss of available chlorine during storage - which occurs with highly concentrated solutions containing 10 to 15 percent sodium hypochlorite. Operational safety is enhanced thanks to the fully automated control system. Components are readily accessible and easy to clean. The systems are supplied completely pre-assembled, electrically connected and tested, and can be quickly installed and commissioned on-site.

Osec is a trademark of Siemens and/or its affiliates in some countries.

More information is available for journalists about Siemens' products and related topics featured at IFAT Entsorga 2012 on our website at www.siemens.com/press/ifat .

For visitors and anyone interested in finding out more about Siemens' presentation at IFAT Entsorga 2012, information is available on our website at www.siemens.com/ifat .

For further information about water treatment solutions, go to
http://www.siemens.com/water

You can find the text online at: http://www.siemens.com/press/industryautomation/pressreleases
The new OSEC B-Pak tubular cell electrolyzer systems from the Siemens Industry Automation Division generate up to five kilograms of chlorine per hour for disinfecting drinking, process and swimming pool water.

Contact USA:
Ms. Allison Britt
Corporate Communications
Siemens Industry, Inc.
Water Technologies Business Unit
2501 N. Barrington Rd. Hoffman Estates, IL 60192 USA Phone 1-847-713-8477
E-mail address allison.britt@siemens.com

The Siemens Industry Sector (Erlangen, Germany) is the world's leading supplier of innovative and environmentally friendly products and solutions for industrial customers. With end-to-end automation technology and industrial software, solid vertical-market expertise, and technology-based services, the Sector enhances its customers' productivity, efficiency, and flexibility. With a global workforce of more than 100,000 employees, the Industry Sector comprises the Divisions Industry Automation, Drive Technologies and Customer Services as well as the Business Unit Metals Technologies. For more information, visit http://www.siemens.com/industry
The Siemens Industry Automation Division (Nuremberg, Germany) supports the entire value chain of its industrial customers - from product design to production and services - with an unmatched combination of automation technology, industrial control technology, and industrial software. With its software solutions, the Division can shorten the time-to-market of new products by up to 50 percent. Industry Automation comprises five Business Units: Industrial Automation Systems, Control Components and Systems Engineering, Sensors and Communications, Siemens PLM Software, and Water Technologies. For more information, visit http://www.siemens.com/industryautomation

More from Electrical Equipment & Systems