Electrolytic Tantalum Capacitors span 25-50 mF.
Press Release Summary: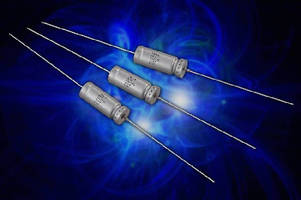 Utilizing high CV tantalum powders and wet tantalum design, TWD High Temp Max Cap (HTMC) Series Capacitors are rated for 50 mF, 6.3 V and 25 mF, 10 V with operating temperature from -55 to +125°C and extended lifetime up to 10,000 hours at 85°C. Axial-leaded, hermetically sealed devices are available with ±10% and ±20% capacitance tolerance. Products are suited for DC hold-up and low frequency pulse circuitry in avionics, defense, specialized industrial, and other high-reliability applications.
---
Original Press Release:

AVX Achieves Supercapacitor CV Values with Expanded High Temp Max Cap Capacitor Series



Featuring capacitance values spanning 25mF to 50mF, exceptional electrical & mechanical stability, & extended lifetimes of up to 10,000 hours, the new TWD HTMC series is ideally suited for avionics, defense, & industrial applications that require high capacitance at higher temperatures & for longer lifetimes than EDLC supercapacitor technologies can deliver



FOUNTAIN INN, S.C.  – AVX Corporation, a leading manufacturer of passive components and interconnect solutions, has released a new series of axial leaded, hermetically sealed wet electrolytic tantalum capacitors that achieve supercapacitor CV values in high temperature environments up to 125°C. Utilizing high CV tantalum powders and a well-established wet tantalum design, TWD High Temp Max Cap (HTMC) Series capacitors deliver exceptional electrical and mechanical stability, achieving extended operational lifetimes of up to 10,000 hours at 85°C, rated voltage. Combined with extremely high capacitance values spanning 25mF to 50mF and a wide operating temperature range spanning -55°C to +125°C, the extended endurance of the new TWD HTMC Series capacitors makes them ideal for use in DC hold-up and low frequency pulse circuitry in avionics, defense, specialized industrial, and other high reliability applications that require high capacitance at higher temperatures and for longer lifetimes than EDLC (electric double-layer capacitor) supercapacitor technologies can currently deliver.



"The high CV tantalum powders used to develop our new TWD HTMC Series allow us to achieve extremely high capacitance values well within the supercapacitor range, and the hermetic packaging provides high mechanical stability that enables their use in a variety of high temperature, high reliability, and long life applications," said Chris Reynolds, technical marketing manager, AVX.



Packaged in T4 axial leaded cases, TWD HTMC Series capacitors are currently available rated for 50mF, 6.3V and 25mF, 10V, -55°C to +125°C, and 10,000 hours at 85°C and rated voltage. Additionally, a third rating of 150mF, 2.5V, -55°C to +125°C, and 2,000 hours at 85°C and rated voltage is in active development. TWD HTMC Series capacitors are available with a ±10% and ±20% capacitance tolerance, with and without an insulating sleeve, and with either Sn/Pb (60/40) plated or pure matte tin terminations. The series is also lead-free reflow compatible and RoHS compliant, and is suitable for automatic mounting and soldering. Lead time for the series is 14 weeks.



For more information about AVX's new TWD High Temp Max Cap (HTMC) Series capacitors, please visit http://www.avx.com/products/tantalum/wet-tantalum/dcultramax/ to access the product datasheet and catalog, relevant technical papers, information about military and aerospace specifications and packaging, and modeling software. For all other inquiries, including design possibilities that extend beyond those contained in the product datasheet, please visit www.avx.com, call 864-967-2150, or write to One AVX Boulevard, Fountain Inn, S.C. 29644.



About AVX

AVX Corporation is a leading international manufacturer and supplier of electronic passive components and interconnect solutions with 20 manufacturing and warehouse facilities in 11 countries around the world. AVX offers a broad range of devices including capacitors, resistors, filters, timing and circuit protection devices, and connectors. The company is publicly traded on the New York Stock Exchange (NYSE:AVX).



A member of the Kyocera Group since 1990, AVX is also the only company authorized to supply Kyocera's electronic devices to the Americas and Europe. Established in 1959 and based in Kyoto, Japan, Kyocera Corporation is a leading international supplier of connectors, capacitors, ceramic resonators, surface acoustic wave (SAW) filters and duplexers, and crystal oscillators and timing devices.



For more information, contact:

Allen Mayar

Product Marketing Manager

864-228-4540

Allen.Mayar@avx.com

More from Mechanical Power Transmission