Electrolube Showcases New Surface Mount Adhesives at Productronica China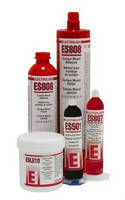 Electrolube, the global manufacturer at the forefront of electro-chemicals technology, will showcase its newest Silicone and Surface Mount Adhesive products at Productronica China, taking place at the New Shanghai International Expo Centre March 20-22. The Electrolube booth will feature the company's latest solutions in hall W5, booth 5558, including the new SC range of silicone products featuring one of Electrolube's most successful silicone products ever.

The silicone resin SC3001 is an optically clear and flexible two-part encapsulation compound, developed specifically for the needs of the LED industry where optical clarity is essential. The "2000" silicone resin series includes SC2001, a general potting and encapsulating compound, SC2001FD a fast cure compound and SC2003, a thixotropic compound. All have high continuous operating temperatures and provide an excellent barrier against a number of extreme conditions.

Further newcomers to the Surface Mount Adhesives range include ESLE-10, a one-part silver loaded epoxy resin, and ES501 underfill resin. With excellent adhesion, ESLE-10 is used as a conductive bond between solder-free surface mount connections, solder repairs, static discharge and grounding or general conductive adhesion. ES501 underfill resin improves adhesion strength of devices during mechanical stress without compromising thermal cycle performance and provides fast, void-free underfill of area array devices. With its high flexibility, ES501 can be easily reworked and used in high-volume assembly, offering a typical cure time of 35-40 minutes at 90°C or 3 minutes at 150°C .

Demonstrating high wet strength and good electrical characteristics, Surface Mount Adhesive ES808 offers outstanding bonding performance of surface mounted devices to printed circuit boards prior to wave soldering. Where medium to high dispense speeds and high dot profiles are required, ES808 provides users with a cost effective solution and ease of use with its cartridge format. ES808 is suitable for pin transfer and stencil print and offers excellent resistance against humidity. Equally, the new ES807 offers the same level of performance but is more suited for high speed dispensing (25,000-50,00DPH) and provides an outstanding dot profile. Both products have excellent adhesion to substrate and wet strength and have a typical cure temperature of 130°C and 90 second cure time or 60 seconds at 150°C.

Electrolube's management and technical team will be available in hall W5, booth 5558 to discuss the benefits of their extensive product range and to help identify solutions for visitors with specific electronic and manufacturing requirements. For further information, please visit www.electrolube.com.

Contacts:

Electrolube (A division of HK Wentworth Ltd) Karen L. Harrison, Group Marketing Manage

Email: karen.harrison@hkw.co.uk

Mobile: +44 (0) 7764 771392

Office: +44 (0) 1530 419600

Electrolube China

Building No.2, Mauhwa Industrial Park

Caida 3rd Street

Caiyuan Industrial Zone

Nancai Township

Shunyi District

Beijing

101300 PRC

China

Tel: +86 10 89475123

Fax: +(86) 10 89475077

Sales hotline: +(86) 10 89475128

Email: info@hkw.com.cn

International Headquarters:

Ashby Park, Coalfield Way, Ashby de la Zouch, Leicestershire, LE65 1JR UNITED KINGDOM

Tel: +44 (0)844 375 9700

Fax: +44 (0)844 375 9799

E-mail: info@hkw.co.uk

Electrolube, a division of H.K. Wentworth Limited, is a leading manufacturer of electro-chemicals for electronics, automotive and industrial manufacturing. Additionally, Electrolube manufactures and supplies specialist lubricants to the automotive, industrial and domestic switch manufacturing sector. Research and development, quality and environmental concerns are fundamental to the Electrolube philosophy of providing the highest level of customer service. This is achieved both direct to manufacturers and via a worldwide network of subsidiaries and distributors. The continued global expansion of Electrolube and its innovative range of environmentally friendly products prove that the total capability and dedication to customer care combine to create a winning formula.


More from Agricultural & Farming Products