Electrolube Launch New Polyester and Silicone Resins at SMTA International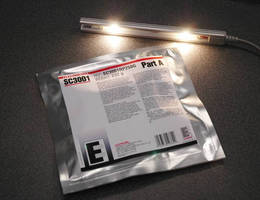 Electrolube, the global manufacturer at the forefront of chemicals technology for the electronics, automotive and industrial manufacturing industries, will launch an innovative clear polyester resin and showcase the company's newest silicone and "green" aerosol products at SMTA International in Florida, booth 637. The conference and exhibition will take place from the 14-18 October at the Walt Disney World Dolphin Hotel in Orlando.

PE7600 is a high performance, opaque, flame retardant encapsulation resin developed primarily for potting delicate electronic and electrical components where conditions can be extremely varied. The polyester resin combines high flexibility at extremes of temperature with excellent electrical properties and with its low hardness it has the added benefit of being reworkable. In addition, PE7600 offers flame retardance, meeting the highest classification level according to industry standards, UL94 V-0. The encapsulation resin also eliminates the use of harmful isocyanates without compromising performance, to create a completely hazard free environment for operators. Available in 250g resin packs and 5kg kits, PE7600 has a simple 2:1 mix ratio and exhibits rapid gel times.

SC3001, is an optically clear and flexible two-part encapsulation compound, developed specifically for the needs of the LED industry where optical clarity is essential. Part of the SC range of silicone products, SC3001 achieved record sales in Australia and China and is Electrolube's most successful, fastest selling silicone resin product to date. It features a number of benefits over its competitors, including low viscosity and excellent electrical properties and flexibility. It also exhibits excellent resistance to water and a wide variety of chemicals, therefore providing the highest protection in a range of environments. The "2000" series of silicone resin products enables high continuous operating temperatures and provides an excellent barrier against a number of extreme conditions. Silicone resins in the "2000" series include SC2001, a general potting and encapsulating compound, SC2001FD a fast cure compound and SC2003, a thixotropic compound.

As an organization that holds environmental responsibility at the core of its ethos, Electrolube will showcase two of its newest eco-friendly innovations, which offer the staggering ability to reduce equivalent CO2 emissions by more than 99.5%. FREH Freezer Spray and the EADH Air Duster are used in a variety of applications to remove dust and airborne contamination from very delicate or inaccessible areas of electrical and electronic equipment. Freezer sprays are also used for fault finding, helping to identify and to cool overheating electrical components. It is essential that products supplied for these purposes are non-flammable as they are often used when equipment is switched on and 'live'. Developed without the use of harmful gases and with a new hydrofluorocarbon propellant, FREH and EADH provide superior environmental properties to the standard HFC-134a propellant, commonly used in alternative products. With low global-warming-potential (GWP), zero Ozone Depletion and non-flammable properties, EADH Air Duster and FREH Freezer spray provide extraordinary low-carbon advantages, with an additional benefit of 20% more blasts per can and without any compromise in performance.

Dr Xiaoping Lei, the R&D Manager of HK Wentworth, will also give a presentation at SMTA's technical conference entitled "Non-Isocyanate, Non- mercury Polyurethane Encapsulation Resins". As part of the privately owned HK Wentworth Group, Electrolube has been developing process-specific chemical solutions for the electronics industry for over 40 years. Management and technical teams will be available at booth 637 to help identify solutions for visitors with specific electronic and manufacturing requirements and discuss the benefits of their extensive product range including contact lubricants, conformal coatings, thermally conductive materials, resins and service and maintenance products. For further information, please visit www.electrolube.com.

Contacts:

Electrolube (A division of HK Wentworth Ltd)

Karen L. Harrison, Group Marketing Manager

Email: karen.harrison@hkw.co.uk

Mobile: +44 (0) 7764 771392

Office: +44 (0) 1530 419600

International Headquarters:

Ashby Park, Coalfield Way,

Ashby de la Zouch, Leicestershire,

LE65 1JR UNITED KINGDOM

Tel: +44 (0)844 375 9700

Fax: +44 (0)844 375 9799

E-mail: info@hkw.co.uk

Electrolube USA

PO Box 271347

Flower Mound,

Texas 75027

Tel: 888-501-9203

Tel: 972-432-6682

Fax: 888-5062598

Email info@hkw.us.com

Press Contact:

Firefly PR

Suzanne Boudier

Tel: +44 (0) 1305 759834

Mobile: +44 (0) 7776 281257

Email: info@firefly-pr.com

Electrolube, a division of H.K. Wentworth Limited, is a leading manufacturer of electro-chemicals for electronics, automotive and industrial manufacturing. Additionally, Electrolube manufactures and supplies specialist lubricants to the automotive, industrial and domestic switch manufacturing sector. Research and development, quality and environmental concerns are fundamental to the Electrolube philosophy of providing the highest level of customer service. This is achieved both direct to manufacturers and via a worldwide network of subsidiaries and distributors. The continued global expansion of Electrolube and its innovative range of environmentally friendly products prove that the total capability and dedication to customer care combine to create a winning formula.