Electrode Boilers achieve up to 99.9% efficiency.
Press Release Summary: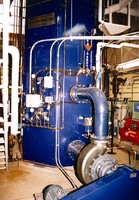 Offering clean alternative to fossil fuels, CEJS Series utilizes conductive and resistive properties of water to carry electric current, which generates steam. AC current flows from each electrode to neutral using water as conductor. Since water has electrical resistance, current flow generates heat directly in water itself, without heat buildup in electrode. Vertically mounted around inside of pressure vessel, CEJS Series produces max steam using minimal floor space.
---
Original Press Release:

Cleaver-Brooks Introduces the CEJS Series Electrode Boiler



New boiler series achieves up to 99.9 percent efficiency

MILWAUKEE, Wis. - Energy efficiency is a top priority for Cleaver-Brooks' research and development team, which is why new products are designed with efficiency in mind. The CEJS Series Electrode Boiler is no exception; achieving operating efficiencies of up to 99.9 percent.

CEJS offers a clean, easy-to-use operating alternative to fossil fuels and allows users to take advantage of lower energy rates during daily or seasonal off-peak periods.

"With rising fuel costs and a desire to decrease environmental impact, this is a vital time to strengthen this important product area," said Earle Pfefferkorn, president of C-B Package Boiler

"We are committed to the advancement of technology in our industry and its ability to make a positive impact on the environment and our customers' bottom line."

This new boiler series utilizes the conductive and resistive properties of water to carry electric current (amps), which generates steam. An a.c. current flows from each electrode, to neutral using water as the conductor.

Since the water has electrical resistance, this current flow generates heat directly in the water itself. The more current that flows, the more steam produced. One-hundred percent of the electric energy is converted into heat with no stack transfer needed.

Unlike conventional resistance type electric boilers or fossil fuel boilers, nothing in the electrode boiler is at a higher temperature than the water itself. There's no heat buildup in the electrode, therefore, no electrode burnout, and no danger to the boiler itself.

The CEJS electrodes are vertically mounted around the inside of the pressure vessel, which enables the CEJS to produce maximum steam using minimal floor space.

Celebrating their 75th anniversary, Cleaver-Brooks is a world-renowned provider of boiler room products and systems that outperform and outlast the competition. Selling to both the commercial and industrial markets, they are the only manufacturer offering an entire integrated boiler room system. Their products are backed by a world-class distribution network offering superior aftermarket support. Visit.www.cleaver-brooks.com for more information.

For more information contact:
Rachel Jennings (414) 274-3010
rjennings@insideSH.com

More from Services