Electrocoagulation System produces recyclable water.
Press Release Summary: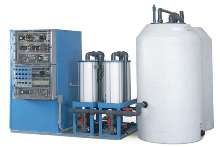 Stormwater Management Electrocoagulation System(TM) uses controlled electrical current to remove multiple contaminants from industrial wastewater, washwater, and stormwater. Monitored and maintained by on-board control system, system reduces operator time by 95% and draws approximately 15 A on 230 V, 3-phase circuit at 5 gpm. Use of electrocoagulation water processing system results in nearly 100% of cleaned water that can be recycled.
---
Original Press Release:

Stormwater Management, Inc. Introduces Electrocoagulation System


System is superior to mechanical or chemical treatment systems for industrial wastewater and wash water.

Portland, Ore., May 18, 2004 Stormwater Management, Inc., the leader in the stormwater treatment industry, announces the new Stormwater Management Electrocoagulation System(TM) (EC System(TM)), its electrocoagulation water processing system for industrial, marine, transportation, and other applications with a high concentration of contaminants. The EC System uses controlled electrical current to remove multiple contaminants from industrial wastewater, washwater, and stormwater in many cases eliminating the need for chemicals and significantly reducing power demand and operator attention.

The EC System is a programmed technology that is monitored and maintained by an onboard control system, reducing operator time by nearly 95 percent. Unlike mechanical and chemical systems that need to be monitored, adjusted, and maintained around-the clock, operators of the EC System need only make routine checks once or twice a day.

The new Stormwater Management system draws only a minimal amount of power approximate 15 amps on a 230V 3-phase circuit at 5 gpm significantly less than mechanical systems. Computer control and minimal components make the system reliable and simple to maintain.

"We are pleased to offer those responsible for storm- and wastewater treatment a replacement for chemical and mechanical systems that cleans water for re-use and meets or exceeds discharge requirements," said David Pollock, CEO of Stormwater Management, Inc. "Our electrocoagulation system also significantly reduces operating costs, making it an ideal option for industrial applications."

The quality of the treated water is up to ten times better than that of mechanical systems, and nearly 100 percent of the cleaned water can be recycled. In washwater treatment or wash rack applications, the detergents and soaps remain in the water for re-use.

The EC System meets all discharge requirements under the NPDES regulations in a number of industry applications, especially where the particles being filtered are either so small that they would pass through a typical filtration system, or so numerous that they would overwhelm the system. These applications include transportation equipment cleaning, wood treating, quench water recycling and marine applications such as hydroblasting, bilgewater treatment and hull washing.

Stormwater Management's new industrial system separates oily wastewater, emulsified oils, suspended solids, total petroleum hydrocarbons (TPH) and heavy metals. It can be used in conjunction with other systems, such as the Stormwater Management StormFilter®, to treat "hot spots" in applications where greater quantities of contaminated water must be managed.

For a typical installation, the EC System comes in a pre-packaged intermodal cargo container that sits above ground, and is located inside or outside the facility. The system can also be equipped with an optional telemetry system for remote monitoring and performance diagnostics. Maintenance operations, such as periodic replacement of the electrolytic plates can be performed easily by maintenance personnel, while more in-depth diagnostic question can be answered via phone by Stormwater's customer service representatives.

For more information on the EC System, please visit www.stormwaterinc.com/EC/ECLaunch.shtml or call 800.548.4667.

About Stormwater Management, Inc.

Headquartered in Portland, Oregon, with regional offices throughout the United States as well as full coverage of Australia and New Zealand, Stormwater Management, Inc. is the leading provider of highly effective and innovative products and services to the stormwater industry and industrial customers. Founded in 1995, the company is committed to research and development and is always working to find effective and economical solutions to meet the requirements of national and local legislation, including the National Pollution Discharge Elimination Systems (NPDES). The company has an extensive product line including the StormScreen®, the StormGate Separator(TM), and the StormFilter. Stormwater Management also provides maintenance for its systems and technical support in analyzing and developing solutions for site-specific stormwater runoff solutions. For more information, visit www.stormwaterinc.com, email industrial@stormwaterinc.com or call 800-548-4667.

COME RAIN, WE SHINE.®

Contact:

Calvin Noling
Director of Industrial & Remediation Business
Stormwater Management Inc.
800-548-4667
calvinn@stormwaterinc.com

More from Controls & Controllers