Electrochemical Sensor measures enriched or depleted oxygen.
Press Release Summary: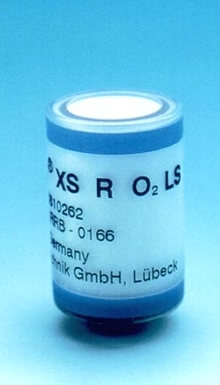 XS-R-02 measures oxygen in chemical, petrochemical, utilities and any confined space entry application. 3-electrode sensor provides specificity to target gases as well as higher resistance to overexposure. Unit exhibits stability in presence of changing temperatures, pressure and humidity. Other models are available for carbon monoxide and hydrogen sulfide applications.
---
Original Press Release:
Draeger Introduces XS-R-O2 Sensor for Enriched or Depleted Oxygen Applications

November 7, 2001 - - Pittsburgh, PA - - Draeger introduces a new electrochemical sensor for 02 (Oxygen) the DraegerSensor XS-R-02. Used for measuring 02 in chemical, petrochemical, utilities, industries and in any confined space entry applications, the XS-R-02 sensor offers the safety industry the advantages of extended stability, long range and longer operation time including a 5-year warranty. In manufacturers' tests these sensors are exhibiting an unsurpassed stability to changing temperatures, pressures and humidity. The Draeger patented three-electrode design provides greater specificity to target gases and higher resistance to over exposure. The new XS-R Sensors are available in Carbon Monoxide, Hydrogen Sulfide and Oxygen and are optimized for use in the Draeger MiniWarn, Multiwam II and Pac III gas monitoring instruments.

1. Draeger Safety, Incorporated in Pittsburgh, PA is part of the Draegerwerk, AG group of companies servicing the Safety, Medical, Aerospace, Diving and Computer Information Systems markets. Located in Luebeck, Germany, Draegerwerk, AG employs more than 8,500 people worldwide and has production, sales and distribution facilities located in over 100 countries.

2. Draeger Safety, Incorporated US headquarters and manufacturing facility are located in Pittsburgh, PA and employ approximately 200 people. Established in 1976, Draeger Safety, Inc. is the largest of Draegerwerk AG's subsidiaries worldwide concentrating in the areas of Gas Detection, Respiratory Protection, Diving and Service. Draeger Safety maintains satellite sales offices, in Houston, TX; Durango, CO; Los Angeles, CA; St. Petersburg, FL and Mexico City. Wesley J. Kenneweg serves as president and CEO and has been with the Draeger organization since 1983.

3. Principal Product Lines include: -Electronic gas detection measuring and monitoring instruments and systems -Self-contained breathing apparatus -Disposable, half-mask and full-face mask filters -Electro-chemical and infrared sensor engineering and manufacturing -Draeger Tubes and Draeger CMS spot measurement gas & vapor sampling -Underwater semi-closed circuit rebreathers -Filter and oxygen generating self-rescuers -Emergency escape breathing apparatus -Supplied air respirators and systems -Breathalyzer Products

More from Fluid & Gas Flow Equipment