Electrochemical Air Quality Monitor delivers ppb accuracy.
Press Release Summary: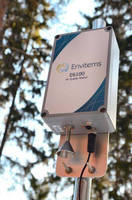 Designed for integration with existing systems, Envitems E6100 can measure common gaseous sources of urban air pollution — NO2, NO, SO2, CO, HS2, and O3 — and offers option to add particulate detectors. Electrochemical technology enables measurement down to ppb level, and users can wirelessly download data recordings. Compact air quality station, capable of precision measurement, suits research and urban air quality monitoring applications.
---
Original Press Release:

Finnish Start-up Envitems Makes Bold Entry Into Clean Technology Market with Launch of First Product



Envitems E6100 makes precision air quality monitoring more convenient, affordable



TAMPERE, Finland -- With the release of its inaugural product, Envitems (http://www.envitems.com) has announced itself as a major player in the clean technology, or "cleantech," industry. The Envitems E6100 (http://www.envitems.com/share/LIT-E6100-001.pdf) air quality station represents the most capable measurement device of its type, all housed within a surprisingly compact form factor.



The engineers and product developers at Envitems have many years of combined experience creating cleantech solutions for various applications. The Envitems E6100 has been designed for quick integration with existing systems and is ideal for research and monitoring of urban air quality.



The Envitems E6100 can measure all of the most common gaseous sources of urban air pollution - NO2, NO, SO2, CO, HS2 and O3 - and provides an option to add particulate detectors. The company's cutting-edge electrochemical technology can measure to the parts-per-billion level without the steep price that normally comes with that sensitivity. Users can wirelessly download data recordings to either Envitems' cloud platform or to their own systems.



Traditional air quality measuring equipment is expensive, bulky and maintenance intensive. The Envitems E6100 breaks this mold with a design that prioritizes convenience, reliability and compact packaging. Best of all, the company has managed to deliver the most cost-effective option to date for sophisticated and precise air quality monitoring.



The Envitems E6100 is appropriate for many applications. Beyond urban air quality assessments, the device is equally suitable for automation monitoring in green buildings, monitoring point emission sources, ensuring safety in tubes and tunnels, and academic and government research projects.



All Envitems products are manufactured and precisely calibrated at the company's own factory in Finland, with parts sourced from a global supplier network of cleantech partners. Envitems will gladly work with end users to develop custom technology for a wide range of air quality measurement applications.



Envitems Incorporated launched as a spinoff of Baytems in 2013 following development of its advanced air quality measurement technology. The company sees itself becoming a leader in the ongoing cleantech revolution and shares the growing global concern for air quality.



Looking ahead, the team at Envitems anticipates developing innovative solutions for OEMs as well as enhancing the features and functionality of the company's cloud-based data services.



About Envitems Inc.

Envitems is a privately owned Finnish company specializing in air quality measuring instruments. The company is an instrument manufacturer with extensive experience in the electronics industry and the cleantech sector. Envitems designs and manufactures air quality stations that are used to measure the pollutant gas and particle content of ambient air, while also providing customers with associated data services.



Contact:

Eero Alkkiomaki, President and CEO

Envitems Inc.

Kuninkaankatu 22 A

FI-33210 Tampere

Finland

+358 40 545 3786

Email

More from Safety & Security Equipment