Pressure Sensors / Detectors / Transducers
Electro-Pneumatic Transducer is approved for natural gas.
Press Release Summary: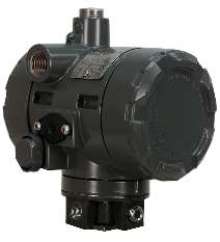 Featuring explosion-proof, NEMA 4X/IP66 housing, Type i2P-100 converts mA input signals to switch selectable proportional pneumatic output signal. Dual compartments have explosive fluid seal between explosive/corrosive process fluid and electronics. Integral pneumatic relay provides capacity necessary to drive pneumatic control valve/actuator assemblies without additional volume boosters or positioners. Selectable dipswitch can be set for output range of 3-15 or 6-30 psi.
---
Original Press Release:

Emerson Introduces Electro-Pneumatic Transducer with High Output Capacity and Rangeability


The Fisher Type i2P-100 transducer is approved for natural gas as the pneumatic supply

MARSHALLTOWN, IA. (January 26, 2005) -- Emerson Process Management introduces the Fisher Type i2P-100 electro-pneumatic transducer that can convert various milliamp input signals to a switch selectable proportional pneumatic output signal for lower pneumatic supply consumption. The transducer is approved for use with Natural Gas because of its unique design of dual compartments that have a third-party approved "explosive fluid seal" between the explosive/corrosive process fluid and the module electronics.

High Output Capacity and Rangeability -- An integral pneumatic relay provides the high capacity necessary to drive pneumatic control valve/actuator assemblies without additional volume boosters or positioners. A selectable dip switch can be set for a standard output range of 3- 15 or 6- 30 psi, and the selectable two-way split range uses either half of the standard input signal.

Tough, Reliable and Easy to Service -- Coating the patented plug-in converter module and encapsulating the plug-in electronics in the transmitter provide protection and reliability in hostile environments. The explosion proof rated housing is designed to meet NEMA 4X, IP66 requirements. This Fisher transducer is a free-flow pilot stage design with large internal air passages that provide excellent tolerance to a dirty pneumatic supply by reducing the effects of contaminant buildup and erosion. The external removable primary orifice and replaceable 5 micron filter are easy to remove for service and maintenance. Electronic and converter modules are contained in separate housing compartments, isolating the electronics from the process and allowing for easy replacement in the field for reduced maintenance costs.

Vibration Resistance - The plug-in converter module uses small parts of minimum mass, which are balanced symmetrically around a pivot point at the center of the mass. This balanced arrangement, when used in a standard valve/actuator mounted application, results in a high performance instrument that reduces sensitivity to vibration.

For additional information on the Fisher Type i2P-100 electro-pneumatic transducer contact an Emerson Process Management sales office and request bulletin D103197X012.

About Emerson Process Management
Emerson Process Management (www.emersonprocess.com), an Emerson business, is a leader in helping businesses automate their production, processing and distribution in the chemical, oil and gas, refining, pulp and paper, power, food and beverage, pharmaceutical and other industries. Fisher products (www.emersonprocess.com/fisher) play a key role in Emerson's combining of superior products and technology with industry-specific engineering, consulting, project management and maintenance services. Emerson brands include PlantWeb, Fisher, Micro Motion, Rosemount, Daniel, DeltaV(TM), Ovation, and AMS(TM) Suite.

About Emerson
St. Louis-based Emerson (www.gotoemerson.com) is a global leader in bringing technology and engineering together to provide innovative solutions to customers in process control; electronics and telecommunications; industrial automation; heating, ventilating and air conditioning; and appliance and tools. Sales in fiscal 2004 were $15.6 billion.

Fisher; FIELDVUE; ValveLink; PlantWeb; Micro Motion; Rosemount; Daniel, DeltaV; Ovation; and AMS Suite are marks of Emerson Process Management. Other marks are property of their respective owners.

Contacts:
John Wells, Emerson Process Management, Fisher
1 (641) 754-3288, [email protected]

Peter Dossing, Emerson Process Management
1 (512) 832-3162, [email protected]