Electricians' Tools protect users against live circuits.
Press Release Summary: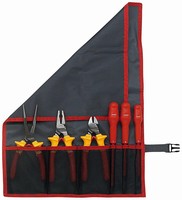 Insulated product line consists of 350+ items, including screwdrivers, pliers, cutting tools, wrenches, drive tools, and keys as well as insulated gloves. Orange plastic insulation protects users from shock when working on live circuits of up to 1,000 Vac and 1,500 Vdc. VE Series tools are designed for craftsmen who install and maintain standard electrical equipment and wiring, while VSE Series tools are for use around highest live voltages and are wrapped with 2 layers of insulation.
---
Original Press Release:

Stanley Proto Launches New Line of Electrical Tools



New insulated product line includes over 350 items, and will protect users from voltages up to 1000 Volts.

Conyers, GA October 18, 2007-Stanley Proto has introduced an entirely new line of electricians' tools that have been designed to help protect users from shock when working on live circuits. The company's 1000-Volt Insulated Tool Line totals over 350 individual SKUs and includes screwdrivers, pliers, cutting tools, wrenches, drive tools, and keys, and insulated gloves. The tools are easily identifiable by their thick layer of orange plastic insulation, which will help protect users from shock when working on live circuits of up to 1000 volts AC and 1500 volts DC.

Operations performed under live voltage are becoming more common in industrial settings, while on-the-job safety is a growing concern for workers and employers alike. The 1000-Volt Insulated Tool line addresses both those concerns.

The tools come in two grades each of which is aimed a different type work environment.

VE Series tools are designed for craftsmen who install and maintain standard electrical equipment and wiring, such as that found in buildings. These tools combine ergonomic design and ease of use with the safety requirements needed for working on or near live components.

VSE Series tools are for use around the highest live voltages, such as those found in electrical power plants. As an added safety feature, tools in this series are wrapped with two layers of insulation: the visible orange top layer and an underlying yellow layer. When the top layer becomes worn or damaged it exposes the underlying yellow layer, which alerts the user that it's time to replace the tool. These tools also have larger guards to help keep hands clear of the non-insulated parts of the tool. Every VSE tool carries approval marking and year and week of insulation hot marked into the tool for trace ability.

Tools in both classes are individually tested and checked before being shipped. They can be purchased individually or in sets. Customers can order Master Sets, Drive Tool & Socket Sets, as well as Screwdriver and Pliers Sets.

The new line will replace all existing Proto insulated tools.

About Stanley-Proto

Stanley Proto Industrial Tools is celebrating its 100th anniversary in 2007, having grown from a small machine shop to a worldwide supplier of durable, high-quality tools. Our tools are developed according to strict ergonomic standards, with features that let users work faster and easier, including enhanced shock absorption and reduced slip. Markets including auto, steel, and airplane manufacturing plants, chemical plants, refineries, general manufacturing, transportation, and fleet maintenance for trucking, transit, and aircraft. For more information call 800-800-TOOL, or go to www.stanleyproto.com.

Company Contact Information

Stanley-Proto
2195 East View Parkway, Suite 103
Conyers, Georgia 30014
800-800-TOOL
770- 787-3800
www.stanleyproto.com
stanleyproto@stanleycustomersupport.com

Please send sales leads to
E. (Lenny) Acuna
Project Coordinator- Stanley
Direct Fulfillment
4 Applegate Drive
Robbinsville, NJ 08691
609-208-2684
609-208-0922 - fax
elinore.acuna@directgroup.net

More from Computer Hardware & Peripherals