Electrically Conductive Adhesive cures fast at low temperature.
Press Release Summary: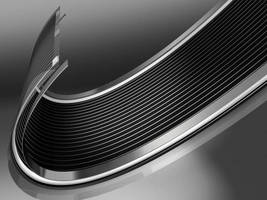 Able to cure in 120 seconds @ 110°C, less than 15 sec @ 130°C, or less than 10 sec @ 150°C, silver-filled Hysol ECCOBOND CA3556HF offers alternative to high-temperature solder processes. No-mix, one-part formula suits high-throughput production processes that dictate high peel strength, such as the assembly of PV modules, automotive sensors, and membrane switches that incorporate temperature-sensitive substrates. Also, stress minimization properties compensate for CTE mismatches.
---
Original Press Release:

New Henkel Electrically Conductive Adhesive Cures Fast at Low Temperature; Ideal for Photovoltaic, Automotive and Membrane Switch Applications



Irvine, California -- Delivering a robust alternative to high-temperature solder processes, Henkel has developed Hysol ECCOBOND CA3556HF, a silver-filled electrically conductive adhesive designed to offer fast cure at low temperature. The material is ideal for high-throughput production processes and applications that dictate high peel strength, such as the assembly of photovoltaic (PV) modules, automotive sensors and membrane switches that incorporate temperature-sensitive substrates.

While solder is arguably the most common electrical interconnect material, its high temperature requirements make it impractical for certain applications. Fragile, thin, temperature-sensitive substrates are often subject to damage not only from the requisite soldering temperatures, but also from screen and stencil printing processes themselves. Hysol ECCOBOND CA3556HF resolves these issues with fast, low temperature curing.

"This material is not just a superior replacement for solder in certain applications," notes Vito Buffa, Henkel Global Product Manager for Pastes and Inks. "Hysol ECCOBOND CA3556HF also has advantages over other electrically conductive adhesives that burden users with long cure times and limited flexibility. This material's cure speed and versatility are unmatched."

Initially designed to address the unique requirements of the photovoltaic module assembly market, Hysol ECCOBOND CA3556HF has been proven for other processes, too. It's flexibility for the photovoltaic sector is well-documented, as it is suitable for both crystalline-silicon (c-Si) and thin film manufacturing. For c-Si cell production, Hysol ECCOBOND CA3556HF delivers an excellent bond between the Ag and SnPbAg coated tabs and the c-Si cells. Thin film module manufacturers seeking a low-stress, fast cure electrical interconnection of cells with ribbons have also incorporated the material into their processes with great success.

In explaining Hysol ECCOBOND CA3556HF's versatility, Buffa continues: "Not only are PV specialists benefiting from the materials' performance; any manufacturer that requires a fast, low temperature cure for high throughput operations will realize the competitive advantage this product delivers. Some of these applications include, but are not limited to, membrane switches, displays on temperature-sensitive substrates, automotive sensor and RFID tag assembly."

Other benefits of Hysol ECCOBOND CA3556HF include high peel and shear strength, stress minimization properties to compensate for CTE mismatches, fast cure for high throughput and a no-mix, one-part formula which reduces operator error and speeds processing time.

For more information on Hysol ECCOBOND CA3556HF or any of Henkel's next-generation adhesive products, call 1-888-9HENKEL or log onto http://www.henkel.com/electronics.

Except as otherwise noted, all marks used herewith are trademarks and/or registered trademarks of Henkel and/or its affiliates in the US and elsewhere.

About Henkel
Henkel has been committed to making people's lives easier, better and more beautiful for more than 130 years. A Fortune Global 500 and Germany's most admired company according to a recent Fortune survey, Henkel offers strong brands and technologies in three areas of competence: Home Care, Personal Care and Adhesive Technologies. Each day, about 50,000 employees worldwide are dedicated to fulfilling Henkel's claim "A Brand like a Friend". In fiscal 2009, Henkel generated sales of 13,573 million euros and adjusted operating profit of 1,364 million euros.


More from Electrical Equipment & Systems