Electrical Wall Outlet integrates 2 USB ports.
Press Release Summary: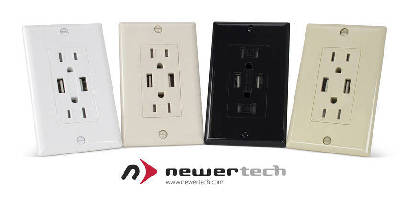 Featuring 2 traditional 15 A power outlets, plus 2 USB ports delivering additional 2.5 A, Power2U Wall Outlet enables charging of up to 4 mobile devices. Unit features 14 in.³ form factor, 14 gauge copper pigtails for installation, and tamper-resistant AC sockets that are compliant with NEC. To prevent vampire energy draw, Power2U incorporates internal micro-switches that turn on USB power transformer only when plug is inserted into port. Colors include White, Black, Light Almond, and Ivory.
---
Original Press Release:

Newertech Announces Updated Power2U Electrical Outlet Integrating Two USB Ports in Standard Wall Outlet



New Outlet is Easier to Install, Fits in More Places with Virtually Universal Compatibility & Eliminates "Vampire" Energy Draw



Woodstock, IL, – NewerTech, a leading developer of Macintosh, PC, iPod, iPhone, and iPad accessories, today announced the all-new, next generation NewerTech Power2U dual USB wall outlet that enables convenient charging of up to four mobile devices at a single electrical outlet.  The Power2U features two traditional 15 amp power outlets, plus two USB ports delivering an additional 2.5 amps via the USB ports, making the wall outlets "today ready" for charging the increasing numbers of mobile devices.



Designed for Easy Installation



The new Power2U utilizes a 14 cubic inch form factor, making it easy to install in virtually any electrical box.  The new compact design features integrated 14 gauge copper pigtails for easy installation and utilizes a standard wall plate which also allows installation in more places, even in multi-gang configurations.



The new Power2U is fully listed by Underwriters Laboratories (UL), and features tamper-resistant AC sockets that are compliant with the National Electrical Code (NEC).  The Power2U is designed to meet current building codes and be safe for use in homes and offices.  Users can install Power2U in minutes thanks to the compact design and free how-to installation video.



Ideal "DIY" Upgrade For Multiple Device Homes



The emergence of different types of electronic devices increases the need for electrical outlets in modern households.  Lamps, clocks, appliances and other household items now compete with portable electronic items for a power outlet.  Power2U is a great solution for multi-device homes as it allows for up to four devices to be charged at a single outlet.  Whether in an office, living room, or beside a bed, the Power2U delivers convenience and blends seamlessly anywhere wall outlets can be installed.  Power2U is available in four colors for more choices in matching existing decor - White, Black, Light Almond and Ivory.



Money Saving, Energy-Efficient Design



To prevent "vampire" energy draw, the updated Power2U incorporates internal micro-switches to conserve energy when not in use. The micro-switches turn on the USB power transformer only when a plug is inserted into the port, preventing vampire energy draw. While most USB charging devices are constantly drawing power, Power2U has always been uniquely designed to draw power only when a device is connected for charging.  With five percent of U.S. energy consumed by vampire power of appliances and computer equipment, the updated Power2U is a smart energy decision that can reduce monthly energy bills.



Reviewers Praise for Power2U



The Power2U family has been critically acclaimed by numerous product reviewers:

"...the future of technology in the present day...so effortless...became a mainstay in my USB power needs."  Gaming Shogun.



"No longer will you have to worry about plugging in 'wall warts' or running out of outlets."  Andrew Kunesh, Macgasm.



"If you (or your kids or your spouse) can't keep track of chargers, these outlets can solve an irritating problem."  James Barber, Under The Radar.



Compatibility



The Power2U is compatible with mobile and handheld devices that support charging through a USB port, including:

Apple iPad (all models)

Apple iPhone (all models)

Apple iPod (all USB-chargeable models)

Android tablets and phones with USB charging

Tablet computers, cell phones, gaming systems (Nintendo, SONY PlayStation Portable, etc.), Bluetooth headsets, digital cameras and GPS devices that charge via standard USB plug.



Availability and Pricing

The new Power2U outlet is available now from Other World Computing with a price of $24.99, and from other NewerTech distributors.  Power2U is available in four colors - White, Black, Light Almond and Ivory.



NewerTech Power2U available through Other World Computing $24.99

"We're excited to announce the next-generation NewerTech Power2U," said Larry O'Connor, CEO, NewerTech.  "The redesigned Power2U is easier to install than ever before, and maintains UL and NEC safety standards.  It is a convenient and energy-efficient solution for charging and powering the growing number of mobile devices that modern households rely on.  While providing additional charging ports, Power2U also leaves the standard electrical ports more accessible.  These are great outlets for any home with multiple portable devices that require charging."



About Newer Technology, Inc.

Since 1984, Newer Technology Inc. (NewerTech) has been recognized as a leading developer of performance upgrades and accessories for Macintosh and PC computers, iPods, iPhones, and iPads. NewerTech is headquartered in Woodstock, Illinois. Dealer inquiries are welcome at 815-308-7001 or by emailing sales@newertech.com. Follow NewerTech on Facebook and Twitter.



© 2015 Newer Technology, Inc.  All Rights Reserved.  NewerTechnology, NewerTech, the NewerTechnology boomerang logo and Other World Computing are trademarks of New Concepts Development Corporation, registered in the U.S. Patent and Trademark Office.  Power2U is a trademark of Newer Technology, registered in the U.S. Patent and Trademark Office.  Apple, Macintosh, iPad, iPhone and iPod are registered trademarks of Apple Inc., registered in the U.S. and other countries.  Other marks may be the trademark or registered trademark property of their respective owners.