Electrical Tester performs electrical safety checks.
Press Release Summary: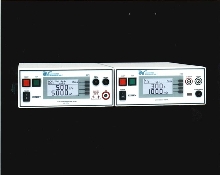 System 3100 includes manual hipot tester and ground bond tester. It helps users comply with safety agency standards requiring high voltage tests of insulation and high current tests of protective ground circuits. It comes complete with necessary hardware and interconnection cables for performing Dielectric Withstand, Insulation Resistance, and Ground Bond tests with single device under test (DUT) connection.
---
Original Press Release:
Entry-Level System Performs Four Most Common Electrical Safety Compliance Tests

Lake Forest, Illinois, Dec. 2001 -Announced today by Associated Research, Inc., is it's new System 3100, which is an entry-level system designed for manufacturers who need to comply with safety agency standards requiring high voltage tests of insulation and high current tests of protective ground circuits. It comes complete with the necessary hardware and interconnection cables for performing the Dielectric Withstand, Insulation Resistance and Ground Bond tests with a single device under test (DUT) connection.

System 3100 is comprised of Associated Research, Inc.'s Hypot® III manual hipot tester and HYAMP® III manual ground bond tester and is available in three different configurations. All systems include HYAMP III with a choice of three different Hypot III models. System 31-05 incorporates Hypot III model 3605 to cover basic AC hipot applications, System 31-65 incorporates Hypot III model 3665 to cover basic AC and DC hipot applications and System 31-70 incorporates Hypot III model 3670 to cover AC hipot, DC hipot, and Insulation Resistance applications.

System 3100 is designed to be conveniently rack mounted side by side in a 19" rack. An optional rack mount kit that provides the necessary flanges for mounting and handles for easy access is also available. Added benefits include a graphic LCD and enhanced user interface. The graphic LCD is found on all Hypot III models as well as HYAMP III, which makes it much easier to set up tests and to review test results. System 3100 has the ability to perform the most common safety tests with a single DUT connection. This not only speeds up throughput and increases the reliability of tests but also presents a much safer testing environment for the operator. Other features include:

SmartGFI for Operator Safety
Built-in Verification Menu
Remote Safety Interlock
Tamper Proof Controls
Multiple Test Memories and Steps
No Load Setup of Voltage and Trip Current
Minimum & Maximum Trip Settings
More from Optics & Photonics