Electrical Tester/Fault Finder monitors control systems.
Press Release Summary: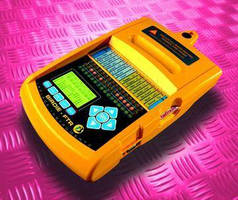 Able to be connected to as many as 16 key points within electrical system under test, self-contained FTR-Birdie records and displays all on/off voltage changes to help solve production-line-down situations. Voltages from 12-240 Vac/dc can be monitored without any need to program, select, or configure inputs. Also, logger captures time and date of up to 32,768 line events (auto stop or overwrite) on 16 lines, which can later be replayed step-by-step for evaluation.
---
Original Press Release:

Saelig's New Fault Tracker Detects Problems in Complicated Electrical Control Systems



Pittsford, NY, USA: Saelig Company, Inc. (www.saelig.com) has introduced FTR-Birdie - a simple to use, self-contained electrical test and fault-finding logger which records and displays all on/off voltage changes at its 16 inputs. Applications include monitoring, logging, and fault finding for control systems, security systems, heating and ventilation systems, production machinery, lift control gear, etc. FTR-Birdie can quickly pay for itself by solving expensive production-line-down situations in complex control systems, just like a 'Black Box' accident recorder.

FTR-Birdie can be connected to a maximum of 16 key points within an electrical system under test. The solid-state, isolated input channels are fused for maximum reliability and safety, and the input on/off status of each line is displayed by bright LED indicators and on an LCD display. A wide input range of voltages can be monitored, from 12V to 240Vac/dc, without any need to program, select, or configure the inputs .

FTR-Birdie captures the time and date of up to 32768 line events (auto stop or overwrite) on 16 lines, which can later be replayed step-by-step for evaluation. The display shows the line states and the previous 40 changes that have occurred, so it is easy to see what preceded fault conditions and understand exactly what happened within the control system.

Modern electrical systems, such as heating and ventilation controls, boiler controls, manufacturing and process control equipment, and railway signaling systems, usually have many inputs and outputs, and many internal connections with PLCs, contactors, switches, trips, and controls. Finding the cause of malfunctions with conventional multimeters is a tedious, time-consuming task, especially if the fault is intermittent. FTR-Birdie is designed to be left on-site for such situations, recording the activity for as long as necessary. It contains an internal battery for up to 50 days use, but it is also supplied with a 110V power adaptor. The recorded data can be downloaded to any Windows PC via the serial or USB cables included, and the results displayed on-screen. The software provided includes a search feature that enables the user to specify a particular combination of inputs, thus quickly locating fault incidents.

FTR-Birdie is housed in a compact, rugged, yellow polycarbonate shock-resistant case (9.85" x 6.5" x 2.4") weighing only 2lb, the inputs are double-insulated with interlocked access for additional safety. FTR-Birdie's compact size and light weight make it ideal for any technician's field service toolkit.

FTR-Birdie is made in Europe by Laplace Instruments, designers of high quality industrial test equipment. It is supplied complete with a 110V adaptor, 2 x D cells, FaultTracker software, RS-232 cable, USB-serial adapter cable, protective padded sleeve, and an operation manual. It is available now from Saelig Company at only $1199.95. For detailed specifications, free technical assistance, or additional information, please contact Saelig 888-7SAELIG, via email: [email protected], or visit www.saelig.com.

About Saelig Company, Inc. Founded in 1988 in Rochester, New York, Saelig is a North American distributor with a growing reputation for finding and sourcing unique, easy-to-use control and instrumentation products and related active components, for use in a variety of industries, including: automation, automotive, aerospace & defense, computers, controls, embedded systems, medical & pharmaceutical manufacturing, motion control, R&D, wireless, etc. Products lines are continuously added from sources across the globe, and are offered at highly competitive prices, accompanied by full in-house technical support, exceptional customer service, and fast delivery. For full details of available product lines, please visit www.saelig.com.