Electrical Terminals have slotted hole on terminal tongue.
Press Release Summary: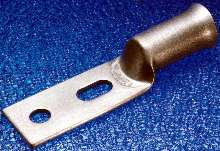 AMPOWER slotted tongue electrical terminals employs design with 1 round stud hole and 1 slotted hole on terminal tongue. Product allows maintenance and repair shops to reduce electrical terminal inventories and simplifies installation for applications with stud spacing variations. Available in 4/0, 300 MCM, and 500 MCM wire ranges, products are offered in additional styles and are constructed of high-conductivity copper with tin or silver platings.
---
Original Press Release:

Ampower Terminals From Tyco Electronics Are Slots Better


HARRISBURG, PA - April 4, 2003 - Tyco Electronics recently expanded the AMPOWER electrical terminal product line by adding new slotted tongue versions. This product design has one round stud hole and a slotted hole on the terminal tongue. Previously, standard AMPOWER terminals were available with only one or two round holes in the tongue. The new product design was driven by requests originating in the MRO segments of the rail and mass-transportation industry. This product development allows maintenance and repair shops to reduce electrical terminal inventories and simplifies installation for applications with stud spacing variations. Terminals with two round holes in the tongue have minimal allowance for stud position variations. With this slotted product, installation technicians have more allowance for the stud spacing variations. In addition to rail applications, this product may find use in large electrical motors, fork lifts and industrial trucks.

Terminals with two stud holes are typically used in applications where vibration and mechanical shock are present and terminal rotation needs to be restricted. With the slotted terminal, two points still secure the terminal so that mechanical retention is robust. AMPOWER terminals are typically crimped to large gauge wire and the slotted versions of this product are available in 4/0, 300 MCM, and 500 MCM wire ranges. AMPOWER terminals are available in several other styles and are constructed of high-conductivity copper with tin or silver platings available. Standard AMPOWER terminals meet or exceed the requirements of UL and CSA. Further information regarding AMPOWER terminals is available in Tyco Electronics Catalog #82025.

Pricing for a tin plated, slotted AMPOWER terminal for 4/0 wire is $7.65 each at the 250 piece quantity level.

For more information on slotted AMPOWER terminals from Tyco Electronics, contact Tyco Electronics' technical support center at 1-800-522-6752 or send e-mail to newproducts@tycoelectronics.com.

ABOUT TYCO ELECTRONICS
Tyco Electronics is the world's largest passive electronic components manufacturer; a world leader in cutting-edge wireless, active fiber optic and complete power systems technologies; and is also rapidly developing extensive networking and building technology installation services. Tyco Electronics provides advanced technology products from over forty well-known and respected brands, including Agastat, Alcoswitch, AMP, AMP NETCONNECT, Buchanan., CII, CoEv, Critchley, Elcon, Elo TouchSystems, M/A-COM, Madison Cable, OEG, OneSource Building Technologies, Potter & Brumfield, Raychem, Schrack, Simel and TDI Batteries.

AMPOWER and TYCO are trademarks

More from Material Handling & Storage