Electrical Terminal incorporates front end controller.
Press Release Summary: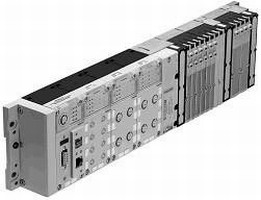 Integrating embedded front-end controller (PLC) within modular CPX electrical terminal, CPX-FEC is protected to IP65/IP67 standards and mounts directly onto machine. It offers Ethernet capability, with 10-100 Mbps data transfer rate over unlimited distances, as well as email, OPC, and web server functionality for remote diagnostics and visualization. Along with 512-in/512-out modular design with analog and digital I/O, solution offers 250 KB program memory at 10 bytes/instruction.
---
Original Press Release:

CPX/FEC - Front End Controller



The CPX modular electrical terminal is now available with an embedded PLC. The CPX-FEC results from the integration of the Festo front-end controller (PLC) into the modular CPX electrical terminal.

Basic features:
o IP 65/IP 67 protection
o Easy to install with integrated controller for mounting directly onto the machine (all on one valve terminal, no need for a cabinet)
o Ethernet capability - 10-100 mbps data transfer rate, unlimited distances
o Email, OPC, and web server capability for remote diagnostics and visualization
o 512 in/512 out modular design with analog and digital I/O
o 250Kb of program memory at 10 bytes per instruction
o 1-2ms per 1K instructions
o Graphical programming tool in statement list and ladder

Economical and Convenient:
A modular PLC integrated with valves for direct mounting to the machine with IP 65/67 protection resulting in reduced installation costs and reduced or eliminated wiring, space, and labor

High Performing:
Integrated web server and e-mail alarms result in reduced engineering and maintenance costs for visualization and diagnosis. Diagnostics data can be sent over Ethernet for remote monitoring.

CPX-FEC can also be utilized in conjunction with a Fieldbus node as a preprocessor in Fieldbus application increasing reaction time of the controlled system. The FEC performance is especially ideal where fast or critical processes are concerned.

Fieldbus networks include DeviceNet, Profibus, Ethernet I/P and others.

For more details, please visit: http://www.festo.com/us/cpx

Festo is a leading global manufacturer of pneumatic and electromechanical systems, components and controls for industrial automation, with 56 national headquarters serving more than 180 countries. For more than 80 years, Festo has continuously elevated the state of manufacturing with innovations and optimized motion control solutions that deliver higher performance, more profitable automated manufacturing and processing equipment. Our dedication to the advancement of automation extends beyond technology to the education of current and future automation and robotics designers with simulation tools, teaching programs, and on-site services.

Festo Contact Information for publication:
Tel: 800.99.FESTO; Fax: 800.96.FESTO
E-mail: customerservice@us.festo.com
Website: http://www.festo.com/usa

More from HVAC