Electrical Fiberglass Enclosures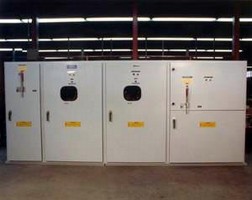 Signature Enclosures of Avondale, PA manufactures fiberglass enclosures in standard and custom enclosures configurations to meet any customer's needs.
The fiberglass enclosures pictured here are used for electrical switches. This image demonstrates a collection of varied sizes and styles bolted together to perform a specific function. Note the different widths, single and double doors, and window variations.

All enclosures are rated NEMA 4X for protection against corrosion, windblown dust, driving rain, and splashing water. These fiberglass enclosures are also undamaged by the formation of ice in extreme temperatures. Most notable for electrical purposes is the non-conductive nature of fiberglass enclosures.

Signature Enclosures provides complete customer satisfaction, with engineering and design services available at no extra charge. We use the highest quality materials and our in-house tooling ensures durability and flexibility of design. Our goal is to provide fast return on investment to our customers.

For more information, contact 800-462-7126, or visit www.signature-enclosures.com for a complete list of all products.


More from Architectural & Civil Engineering Products