Electrical Engineering for Special Machinery by Schaeffler: Taking Standardized Electrical Designs Into New Markets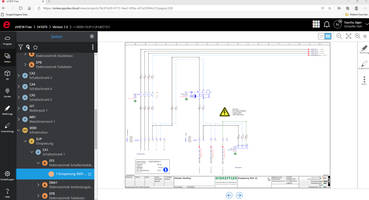 Schaeffler Sondermaschinenbau, a company focused on specialized machinery construction, is standardizing its electrical designs across its numerous locations and relying on EPLAN Platform to get the job done.
A specialised machinery company with 1,700 employees at 13 locations ranks amongst the big players in the field of machine building. What's unusual about this one, however, is that until now it has been serving (almost) only one customer – implying that it must be a client with a major international brand.
Special Machinery Construction with 4,500 Projects a Year
That is indeed the case. The company in question is Schaeffler Sondermaschinenbau, which develops customized machines and plant systems for the entire corporate group: the Schaeffler Group has around 84,200 employees at 170 locations worldwide and a turnover of €14.4 billion (2019). For this integrated, globally active automotive and industry supplier, Schaeffler Sondermaschinenbau focuses on assembly systems and testing technology for production lines.
Overall, the special-purpose machine division creates the majority of the in-house production equipment required by the corporate group. Amongst the most recent highlights are the development and creation of complex assembly and testing lines for automotive hybrid modules and for the new electric axle drive systems. And these are just two of around 4,500 projects that this Schaeffler division handles annually.
High Degree of Manufacturing Expertise
The remarkable depth of development in production technology has a long tradition at the company. In 1960, brothers Dr Georg and Dr Wilhelm Schaeffler initiated the founding of a »Department for Production Equipment», which still contributes to the company´s success today. As a Tier 1 supplier for the automotive industry, Schaeffler develops and manufactures very complex products such as roll stabilizers, 48-volt drive systems and electric axle modules, all of which are produced to the highest quality standards and under intense cost pressures. A high level of manufacturing expertise is a major advantage here.
Around 60 percent of Schaeffler Sondermaschinenbau's 1,700 employees around the globe work in development and design for individually customized production solutions for their customers. Software is also playing an increasingly important role. IT production solutions are programmed for almost all automated assembly technology projects and the know-how goes much deeper. For instance, the developers created an app for condition monitoring to increase productivity and system availability in demanding production environments.
Opening to External Clients
Until quite recently, Schaeffler Sondermaschinenbau designed and produced almost exclusively in-house projects for the corporate group - and had plenty to do, as the 4,500 projects annually demonstrate. Now the division will be making its know-how accessible to outside customers. Schaeffler Sondermaschinenbau Director Bernd Wollenick: "We´re opening up new fields of activity and customer target groups." The focus is on assembly and testing systems as well as processing machines for grinding and honing in combination with product knowledge in the areas of robotics, vision and handling systems, and production IT.
Standardizing the Electrical Designs - With EPLAN
This opening up outside the group was just one of the factors driving the standardization of the electrical design software at the various company sites, for instance in Erlangen and Bühl, Germany, and Taicang, China, each of which developed in its own way. These locations - and others as well - work with EPLAN Platform, but use it differently.
The goal is to overlay a globally standardized electrical design based on EPLAN. A project team of key users is responsible for the task. Stefan Vietz, an electrical design engineer in Erlangen: "We´re developing a common, harmonized infrastructure on EPLAN Platform, which will enable us to collaborate worldwide. It allows us to utilize our capacities in the best possible way and increase the flexibility at the development sites."
Code-Compliant Templates, Macros with Enriched Data
During the standardization process, the team oriented itself to global codes and norms, particularly EN 81346: structuring principles and reference designations for industrial systems, installations and equipment and industrial products. Sascha Jäger, EPLAN Key User in Bühl: "We developed code-compliant templates that every employee can understand, including everyone in manufacturing." Basic information such as equipment identification and plant/location assignment are normed, and device management has also been standardized. And it goes almost without saying that every component is also stored in the ERP system with all its relevant data.
To simplify the design, the team created macros for frequently used devices with a clear goal in mind: "We assigned each device a data set that is as comprehensive as possible. This makes manufacturing easier." Their maxim: "Whoever needs data – whatever type is required – should get it." This is taking place against the background that, in the future, more and more external customers will be requesting data, for instance for preliminary acceptance of systems.
Standardization on the device level also leads to components that can be interconnected with a minimum of effort. So if, for example, a customer chooses a controller or an electric motor from another manufacturer, it's not a problem. Jäger: "The devices are simply swapped out and all of the data of the new components is used."
3D Designs for Control Cabinets Being Rolled Out
In Bühl, Germany, Schaeffler is already using EPLAN Pro Panel to create three-dimensional designs of the control cabinets for the production systems. In the future, Pro Panel will be used worldwide since its advantages for the company are quite clear. Jäger gives an example: "If the designer places a frequency inverter onto a mounting panel, the drilling pattern is automatically stored and the data can be transferred to a Perforex system as a DXF file. This saves time in both design and production." So end-to-end data continuity is an issue – and when Rittal enclosures are used, this is reflected not just in the enclosure layout, but also in the climate controls with Rittal Therm.
Next Steps: Automated Routing and eView
The next planned steps include transferring the data from Pro Panel to external wire fabricators. Vietz: "We then receive labelled wires with conductor end sleeves or finished wire sets. This also saves time and is very efficient, especially for projects using the American UL standard."
Right now the key users are testing the use of EPLAN eView as support, for instance during commissioning. Jäger: "The production department or the commissioning technician can call up the schematics on a tablet computer and use a jump command to view the details directly. Then you no longer need to print out the schematics and the latest data is always at hand."
Vietz lists additional advantages of EPLAN eView: "The commissioning technician can use the redlining function to directly mark where they've made any onsite changes. And three or four commissioning technicians can work on a system at the same time and always have the same documentation status in front of them. This also facilitates communication with the programmers – and not just during commissioning."
On the Right Track to Market Success
Two years after the project's start, the key users don't yet think they've reached their goals, but they're definitely on the right track. Major steps towards standardization have been completed. Schaeffler Sondermaschinenbau has already positioned itself on the external market, and the first systems have already been delivered to customers outside of the Schaeffler Group.
EPLAN Software & Service
EPLAN provides software and service solutions in the fields of electrical, automation and mechatronic engineering. The company develops one of the world's leading design software solutions for machine and panel builders. EPLAN is also the ideal partner to streamline challenging engineering processes. Both standardized as well as customized interfaces to ERP and PLM/PDM systems ensure data consistency along the whole value chain. Working with EPLAN means boundless communication across all engineering disciplines. No matter whether small or large enterprises: Customers can apply their expertise more efficiently. EPLAN wants to grow further with customers and partners and pushes integration and automation in engineering forward. Worldwide, EPLAN supports over 58,000 customers. Efficient engineering" is the focus.
EPLAN was founded in 1984 and is part of the owner-operated Friedhelm Loh Group. The Friedhelm Loh Group operates worldwide with 12 production sites and 96 international subsidiaries. The entire group employs 12,100 people and generated revenues of around €2,6 billion in 2019. For the twelfth time in succession, the family business has won the accolade "Top German Employer" in 2020. In addition Friedhelm Loh Group was recognized as "Top vocational trainer" according to a study of Deutschland Test and Focus Money.
EPLAN Software & Services LLC
425 N. Martingale Rd., Suite 470, Schaumburg, IL 60173 USA
Debbie Raymundo, Phone: +1-847-744-5729 Fax: +1-847-240-4667, raymundo.d@eplanusa.com