Electrical and Electronic Stampings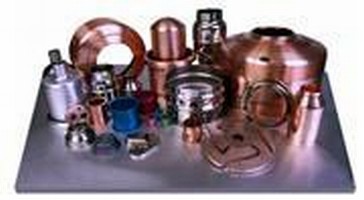 (May 9, 2008)

Gasser & Sons, Inc. is a pioneer in the manufacture of precision metal stampings, deep drawings and machined parts and assemblies. Certified ISO-9002 since 1994 and ISO-9001:2000 since 2003, we continually improve our stampings, deep drawings, machined parts, assemblies and our entire manufacturing process with a goal of zero defects. Specializing in deep drawn metals stamping with capacities from 10 to 400 tons, seamless deep drawing components, shapes & shells, housings & enclosures. Now newly enhanced capabilities focus on components for the electrical and electronics industries.

Gasser components are used in vacuum interrupters and switch gear, microwave, X-ray and vacuum tubes, semiconductor processing and glass and ceramic-to-metal seals. The electronics industry gets complete technical support for all OEM applications.

A worldwide single source supplier of metal stampings with deep drawn stampings and stamping assemblies programs to help you control material costs for up to a full year and offer multiple releases for larger orders to reduce your setup costs. Complete in-house secondaries, CAD & technical engineering support specifications. Warehousing & finishing of precision metal stamping, deep drawing, CNC machined parts & assemblies in stainless, aluminum, nickel, copper, brass, lead, steel & exotics including Kovar®, Invar® & Tantalum. Complete in-house tooling, press forming, 10,000 standard die library & quality assurance.

Gasser is dedicated to the highest tradition of Metal Stamping and Deep Drawing that has provided our customers with the best parts, prices, quality and services for over 80 years worldwide. Call Gasser today for expert technical engineering support at 631-543-6600 or visit our website at www.gasser.com.

More from Materials