Electric Servo-Driven Robot suits high speed manufacturing.
Press Release Summary: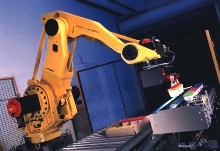 Model M-420iA four-axis, modular construction robot has 40-kg payload and remote mechanical and control unit. It palletizes 48 x 40 in. pallets at heights to 40 in. Model M-421iA (two-axis variant of M-420iA) does not include waist and wrist axes, and handles payloads to 50 kg. Each model includes PalletTool off-line pallet creation software. PalletPRO palletizing simulation software verifies system throughput, robot reach, cell interference, and pallet configuration.
---
Original Press Release:

FANUC Robotics to Demonstrate High Speed Packaging, Mini-Palletizing, and Simulation Software at Pack Expo 2002


ROCHESTER HILLS, Mich., July 2, 2002 - FANUC Robotics North America, Inc. will demonstrate high speed packaging, mini-palletizing and simulation software during Pack Expo 2002 at the McCormick Center in Chicago, from Nov. 3 to 7, in the North Hall, booth #4443.

High Speed Packaging

The new M-420iA is a four-axis, modular construction, electric servo-driven robot with a 40-kg payload and a remote mechanical and control unit. The M-420iA is designed for a variety of high-speed manufacturing applications including packaging, palletizing, material handling, machine load/unload and parts transfer. The M-421iA is a two-axis variant of the M-420iA. The waist and wrist axes have been removed, making the M-421iA faster and able to handle payloads as high as 50-kg.

At the show, the M-420iA and M-421iA robots will demonstrate high-speed packaging. The two robots will work together to pick and package cases at rates up to 50 cycles per minute. The M-420iA and M-421iA offer the fastest motion speeds in their class, which results in reduced cycle time and improved productivity.

"These robots can reach speeds significantly faster than previous-generation packaging robots," said Matt Job, FANUC Robotics' product manager, M420iA/M421iA series robots.

M-420iA High Speed Mini-Palletizing

The new M-420i robot, equipped with PalletTool off-line pallet creation software, will demonstrate high-speed palletizing by handling cases at rates up to 26 cycles per minute.

The M-420iA is a smaller, but equally capable version of the industry-leading M-410i palletizing robot. The M-420iA can palletize standard 48" x 40" pallets at heights up to 40" with no additional hardware.

"By reaching rates of up to 26 cycles/minute, infeed and tooling can be simplified," said Job. "By simplifying tooling, we've eliminated the need for costly and complicated layer or row forming devices."

The M-420iA's small footprint can easily replace small end-of-the line palletizers in high-production changeover industries like pharmaceuticals, cosmetics, and medical devices with flexibility unmatched by non-robotic machinery.

PalletPRO

FANUC Robotics' palletizing simulation software, PalletPRO, provides an efficient and easy way to set up a palletizing cell. PalletPRO offers the ability to verify system throughput, robot reach, cell interference, and pallet configuration. Users can create pallet workcells and define palletizing parameters by creating unit loads with PalletTool PC. Standard items used in palletizing workcells such as slip sheets, conveyors and dispensers are included in the package.

"The advantages of PalletPRO include fast cell setup and very accurate cycle time because simulation is running with FANUC Robotics' PalletTool software," said Job. "The off-line simulation package also helps reduce the cost, effort and time needed during workcell integration and production."

PalletPRO can be used to create new pallet patterns off-line for new productions on the manufacturing floor. Once created, the new pallet pattern can be visually built to verify all reach and interference issues, reducing robot setup time on the production floor.

FANUC Robotics North America, Inc. designs, engineers and manufactures innovative robots and robotic systems for a wide range of industries and applications. After 20 years of success, FANUC Robotics maintains its position as the leading robotics company in North America. A subsidiary of FANUC Ltd. in Japan, the company has facilities in Chicago; Los Angeles; Charlotte, N.C.; Cincinnati and Toledo, Ohio; Toronto; Montreal; Mexico City; Aguascalientes, Mexico; and Sao Paulo, Brazil. FANUC Robotics can be found on the Internet at www.fanucrobotics.com or by calling 800-47-ROBOT.

For More Information, contact:
Marianne Stokes, Marketing Director
FANUC Robotics
Phone: (248) 377-7739
marianne.stokes@fanucrobotics.com

Cathy Powell, Sr. Marketing Analyst
FANUC Robotics
Phone: (248) 377-7570
cathy.powell@fanucrobotics.com

More from Adhesives & Sealants