Cleaning Compounds and Chemicals
Electric Pressure Washer suits car cleaning applications.
Press Release Summary: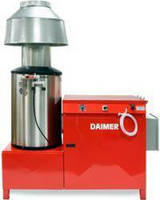 Intended for use by auto dealers, Super Max™ 15500 employs heavy-duty, 3 hp NEMA engine and is heated by natural gas or propane. Generated pressure level of 1,000 psi ensures effective cleaning without damaging vehicle exteriors, and multi-temperature functionality enables generation of hot water from 180 to 210°F and steam to 330°F. Along with 4 gpm flow rate, features include high pressure chemical injection, Long Hose Technology (LHT™), and optional Automatic-Shutoff Technology™.
---
Original Press Release:

Daimer Launches Pressure Washer for Auto Dealers



Daimer Industries, Inc.®, the most trusted name in high-quality auto detailing machines, with an extensive customer base spread across hundreds of countries worldwide, is now offering the Super Max™ 15500, an electric-powered pressure washer specifically designed to cater to the car cleaning applications of auto dealers. The machine comes with heavy-duty 3 HP NEMA engine, a high pressure level, and high temperatures.



"Car dealers wash cars frequently in order to maintain the more pristine appearance of both new and used cars. Dirty cars will surely be unimpressive to buyers and ultimately lead to lower car sales for the dealership," says Daimer Industries, Inc.® spokesman Matthew Baratta. "Daimer® is excited to unveil the Super Max™ 15500 to help auto dealers maintain vehicles more effectively and productively. Heat always help operators clean faster than cold water emitted from less robust cleaning technologies offered by other brands."



Daimer® is a leading brand offering more than 700 different versions of cleaning machines that are marketed to hundreds of countries around the world. The globally renowned supplier has been integrating innovative technologies into its machines for many years. The best of construction, functions, and technologies have made electric-powered and gas pressure washer machines indispensable for use in a wide range of industries.



Since it has been designed for car cleaning applications, the Super Max™ 15500 features the right attributes needed to keep cars in the best condition. To ensure superior cleaning action, the high-powered electric pressure washer http://www.daimer.com/electric-pressure-washers/ heated by natural gas or propane comes with a pressure level of 1000 psi. This is the perfect pressure level that ensures excellent cleaning action without damaging vehicle exteriors, including paint, windows, wheels, tires and windshields.



High pressure levels alone may not suffice to eliminate tough deposits of dirt, brake dust, and other build-up from vehicles' surfaces. Cleaning experts, therefore, recommend using professional hot water pressure washer systems to manage such tasks.



The Super Max™ 15500 http://www.daimer.com/pressure-washers/super-max-15500.htm with its multi-temperature functions enables auto dealers to accomplish the best car cleaning results. The electric pressure washer generates hot water at temperatures ranging from 180ºF to 210ºF and steam at temperatures as high as 330ºF. The Super-Hot™ technology ensures the generation of hot water or wet steam at consistently high temperatures. Hot water and steam help remove grease, tree sap, bugs, mud, ice, and more, thereby saving users the effort of the manual scrubbing associated with less sophisticated manual cleaning methods.



The electric-powered or gas pressure washer chosen for use must feature low flow rates. The Super Max™ 15500 possesses a flow rate of 4 gpm that contributes to faster and a more superior cleaning action.



If users need to enhance cleaning power, they can utilize the pressure washer's high pressure chemical injection. This facilitates the up streaming of cleaning chemicals into the quality industrial pressure washer http://www.pressurewashersequipment.com/industrial.php to generate chemical-enriched steam or hot water with extra cleaning power. In order to ensure eco-friendly cleaning practices, experts recommend using green chemicals formulated for car washing applications.



Daimer®'s stationary commercial pressure washer is equipped with the Long Hose Technology (LHT™) that enables users to work for extended periods without having to move the machine. The technology features hoses as long as 300 feet that will help clean cars with no drop in temperature and flow rate, and relatively minor impact on pressure.



The company's optional Automatic-Shutoff Technology™ (AST™) powers down the machine when it is not in use for 30+ seconds. The technology is extremely useful while using long hoses.



The Super Max™ 15500's is a commercial pressure washer with an extremely rugged housing to help ensure years of reliable use without succumbing to wear and tear associated with cheaper, more fragile equipment. The high-gloss, powder-coated steel housing is also resistant to chipping and chemical spills.



The system's heavy-duty heating coils promise years of reliable performance and minimal maintenance issues even under highly challenging conditions. This important factor as well as other of the company's technologies make the Super Max™ 15500 one of the best pressure washer machines in the industry.



The Super Max™ 15500 features a range of accessories. This system is bundled with a 50 feet long high pressure hose that users can lengthen by as a single hose, or else add other pieces with quick disconnects. Other attachments are steam nozzles of varying spray patterns for covering small or large areas. The highly efficient car wash equipment http://www.carautodetailingusa.com/best-car-wash-equipment.html also features a durable trigger wand with quick disconnect of its own.



The hot water pressure washer offers optional two-gun operation that enables two users to utilize the machine simultaneously. Additionally, Daimer®'s Self-Maintenance Engineering™ (SME™) and Modular System Design™ (MDS™) technologies, incorporated in the cleaning machines, allow users to replace a part easily worldwide without requiring them to send the system to the company or an outside service center.



For Additional Information:

Gain further knowledge about the Super Max™ machines by contacting Matthew Baratta at (888) 507-2220 or visit the brand's official website. These pressure cleaners are globally marketed to most international destinations.



About Daimer Industries, Inc.®:

Daimer Industries, Inc.® is the reputed world leader in commercial and industrial advanced cleaning machines, including floor cleaners, carpet cleaners, steam cleaners, equipment to auto detailers, and many other technologies to virtually all industries throughout over 240 countries.

More from Laboratory and Research Supplies and Equipment