Miscellaneous Cleaning Equipment
Electric Pressure Washer fits in compact spaces.
Press Release Summary: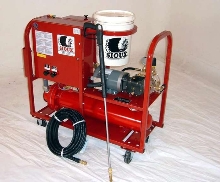 Combination steam cleaner and high-pressure hot-water washer, Sioux Model E2.6HS600, measures 35 x 18 x 47 in. to easily maneuver in fabrication, assembly, and shipping areas. It delivers 2.6 gpm at 600 psi of 140°F water to remove mud, dirt, grime, and dust from equipment, conveyors, buildings, and grounds. With 0.8 gpm at 200 psi of 320°F steam, unit removes grease and oil, melts ice, and disinfects surfaces. Explosionproof models are available for hazardous areas.
---
Original Press Release:

Compact, All-Electric Pressure Washer Designed for Compact Spaces in Manufacturing Plants


Sioux Steam Cleaner Corporation of Beresford, SD, a leading supplier of steam cleaners and pressure washers, has introduced an all-electric combination steam cleaner and high pressure hot water washer which is ideal for cleaning manufacturing facilities. This compact unit measures only 35"H x 18"W x 47"L, featuring easy maneuverability in tight areas in fabrication, assembly and shipping areas. The unit features two cleaners in one: 2.6 GPM at 600 PSI for 140°F high pressure hot water wash, and 0.8 GPM at 200 PSI for 320°F steam cleaning. Hot water will blast away mud, dirt, grime and dust from equipment, conveyors, buildings and grounds. Steam will remove grease and oil, melt ice, and disinfect surfaces.

The Sioux E2.6HS600 provides continuous hot water or steam quickly and continuously, even during long periods of operation, resulting in optimum cleaning capability. Thus, cleaning can be done effectively and at a faster rate than with other brands which often use a holding tank for the hot water (when the holding tank is depleted, discharge temperature decreases, reducing cleaning effectiveness).

Many manager are now facing increased pressure to improve productivity while complying with governmental safety regulations such as the Clean Air Act and OSHA regulations. Sioux model E2.6HS600 is third-party certified under UL 1776 and CSA 22.2 No. 68. Sioux all-electric units also meet the National Electric Code (NEC), the Canadian Electric Code (CEC), and complies with OSHA regulation 1910-303(a), which specifies that all electrical equipment be certified for safety by a Nationally Recognized Testing Laboratory.

Sioux all-electric cleaners produce no flame, exhaust, emissions or contamination into the surrounding area. Thus, the cleaner is ideal for enclosed spaces in (manufacturing) facilities where air quality is a concern. In addition, explosion-proof models are available for hazardous areas. Explosion-proof models are third-party certified under UL-1203 and CSA C22.2 No. 30-92.

Sioux model E2.6HS600 is designed with quality components and a heavy duty steel frame. The unit is designed for years of trouble-free cleaning, and is easy to install, operate and maintain - simply connect electricals and water supply and you are ready to go. No fuel tank is required. Optional electricals are available for overseas operation including 50 Hz. Unit comes complete with hose, trigger-type shut-off gun, three wash tips, steam nozzle and more.
Sioux has been providing all-electric cleaners to manufacturing companies worldwide for over 30 years to effectively clean facilities, resulting in less downtime, longer equipment life, and improved productivity.

Sioux Steam Cleaner Corporation has been manufacturing quality-built, American-made steam cleaners, pressure washers, water heaters and steam generators for industry since 1939.

For more information on the Sioux All-Electric line of steam cleaners, high pressure hot water washers and combination cleaners, please contact:

Tara Schmidt, Advertising Manager: (605) 763-4014
SIOUX STEAM CLEANER CORPORATION
One Sioux Plaza
Beresford, SD 57004
Toll Free: 888-763-8833, Phone: 605-763-3333
Fax: 605-763-3334
Website: www.sioux.com
E-mail: tschmidt@sioux.com

More from HVAC