Electric Presses feature interlocked safety maintenance blocks.
Press Release Summary: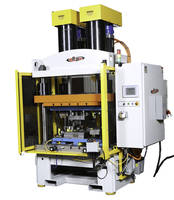 R&B's Servo Powered Electric Presses are offered in 15, 30, 50, and 100 ton capacities. Units are controlled by using Ethernet based control system (PLC) and are engineered with automated cells with capability to load dies from front or back of the machine. Units come with options such as quick-change die, die sensors and lubrication system and use machine actuators for balancing position with the speed.
---
Original Press Release:
R&B Launches New Line of All-Electric Presses
Servo powered presses compliment company's tube end forming machine products
R&B Machining, Inc. officially announced today the launch of its new line of all-electric, servo technology presses. This new product line includes four standard models including 15, 30, 50, and 100 ton capacities. The presses are controlled with a standard Allen Bradley or optional Siemens PLC. The control system is a digital, Ethernet based control system with advanced diagnostics, maintenance reminders, and available production information. The presses are designed with automated cells in mind with the capability to load dies from the front or back of the machine.
R&B's CEO Joe Eramo states, "The new line of all-electric presses offers the latest in precision press technology using servo motor and drive technology and the latest in 'on-board' safety functionality. The machines utilize robust machine actuators which balance precision positioning with speed while providing cost effective screw life. The machines completely eliminate the need for hydraulic oil and results in lower daily power consumption with power on demand. The machine is available with several options including quick-change die features, interlocked safety maintenance blocks, die sensors, and lubrication system to name a few."
About R&B
In business since 1985, R&B is rapidly being regarded as North America's fastest growing supplier of tooling for tube forming and bending applications as well as tube end forming machines, presses and automation. With over 200 years of combined tube industry sales, engineering, and management experience, R&B offers robust technical and commercially competitive solutions to its customers.
R&B's mission is to be a value-add supplier of quality tooling and capital equipment to target markets in order to increase the competitiveness of our customers. R&B provides products and services at competitive prices and delivered on-time in order to achieve complete customer satisfaction. We appreciate and communicate openly with our employees to create a rewarding workplace environment.
Please contact R&B at sales@rbmachining.net to discuss your tube bending and end forming application requirements.