Cleaning Compounds and Chemicals
Electric Power Washer Systems offer 3.8 Lpm water flow.
Press Release Summary: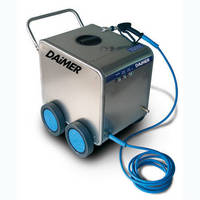 Vapor-Flo® 7600 series electric power washer systems include mobile models 7600, 7625, and 7675 as well as static model 7650. Offering cleaning temperatures up to 79.4°C, systems are rated to pressure levels of 130 bar and water flows of 3.8 Lpm. Driven by commercial-duty, 2.0 hp motor systems, machines offer no-exhaust heating via all-electric coil-enhanced heater. They use electricity for heating and pressure and reach maximum temperature in less than 25 sec.
---
Original Press Release:

3.8 LPM Electric Power Washer Machines in Four Configurations



Daimer®'s new Vapor-Flo® 7600 series provides the line's highest flow rates in four configurations for mobile and static applications.

Woburn, MA U.S.A. - Daimer Industries, Inc., the largest vendor of 50 Hz cleaning technologies, has just announced a four product line of electric power washer systems offering 3.8 LPM of water flow, the highest the company offers in a totally electric power cleaning system. The new machines are available in housings engineered for a variety of applications. As with Daimer®'s other electric pressure washers, the new 7600-class equipment operates with reduced noise and no appreciable exhaust.

"Our 7600 line gives the 50 Hz customer additional options for electric power washer machines with high flow rates and pressure," explained Daimer.com 50 Hz media representative Matthew Baratta. "Also, these are our most advanced systems configured to support the 50 Hz power common in markets outside of the U.S."

Electric Power Washer Line with More Flow

Daimer®'s new Vapor-Flo 7600 series carries rated pressure levels of 130 bar (1880 psi) and water flows of 3.8 LPM. The equipment offers cleaning temperatures approaching 79.4°C. The electric power washer equipment uses commercial-duty, 2.0 HP motor systems.

For no-exhaust heating, the machines employ an all-electric coil-enhanced heater. Since the electric power washer systems use electricity for heating and pressure, the equipment can be used in facilities that manufacture sensitive products like computers, food and medical devices. The heater units use Daimer®'s Fast Heat design to crank up to maximum temperatures in under 25 seconds.

The 7600 series of electric power washer equipment comprises 3 mobile models (7600, 7625 and 7675) as well as a single static model (the 7650.). The 7675 offers enhanced portability because users can refill the machine by manually and operate it away from a fixed water supply.

For additional information about Daimer®'s line of commercial pressure washer equipment, electric pressure washers or hot pressure washer products, www.daimer.com/pressure-washers/ or call Matthew Baratta at (888) 507-2220. Super Max(TM) electric power washer machines are available to customers in most countries.

About Daimer Industries, Inc.®: Daimer®, www.daimer.com, is a major supplier and worldwide exporter of the cleaning industry's leading line of KleenJet® steam cleaners/vapor steam cleaners/steam cleaning equipment; Super Max(TM) commercial and industrial pressure washers, including cold water, hot water, and steam pressure washing machines; and XTreme Power® floor cleaners, including carpet cleaners and hard surface cleaners.

More from Controls & Controllers