Electric Pedestrian Pallet Trucks have ergonomic features.
Press Release Summary: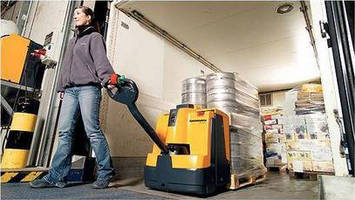 In addition to multifunction tiller head and optional sideways battery removal, EJE series offers clearly arranged rocker switches with contactless electronics that ensure safe operation. Range 1 models EJE 116/118/120 have 494 mm front length to promote maneuverability and support loads to 2,000 kg. Range 2 models EJE 220/225 have 2,500 kg max capacity and are built to withstand continuous application with heavy loads as well as 3-shift operation under rough conditions.
---
Original Press Release:

New Pedestrian Trucks of the EJE Type



Jungheinrich has added two electric pedestrian trucks of the EJE type to its product range. Highlight of the trucks is a completely new multifunction tiller head. This ensures significantly improved ergonomics on the trucks. The application of these trucks is even more effective with the optional sideways battery removal.

Both product innovations are electric pedestrian pallet trucks type EJE range 1 and 2. Both trucks are equipped with the newly developed multifunction tiller head. Rocker switches with contactless electronics ensure that the operator can operate the truck easily and safely in any tiller position. Switches are clearly arranged. The tiller is also particularly fail-safe due to an enclosed sensor system (IP 65).

Effective helper for loading and unloading

Range 1 pallet trucks (EJE 116/118/120) have a very short front length (L2) of 494 mm, making manoeuvring safe and easy even in the most confined spaces. They therefore count as particularly effective helpers during lorry loading and unloading, but also for the transport of pallets over short distances. The trucks can pick up and transport loads up to 2,000 kg.

Range 2 trucks are also efficient at loading and unloading. These are the truck types EJE 220/225 with a capacity of up to 2,500 kg. Just like their "little brothers", they are real power packages and are applied where maximum throughput performance is required. The Range 2 EJE also stands its ground in hard continuous application with heavy loads as well as in 3-shift operation and under rough application conditions. The EJE 220r as stand-alone truck has in addition to the normal lift an optionally available patented ramp lift. This facilitates the horizontal transport of goods on ramps and gradients up to 15%.

The long, bottom-mounted tiller on both ranges ensures the required distance between truck and operator and therefore guarantees safe working. The crawl speed button provides additional assistance in confined warehouse spaces and facilitates travelling with the tiller in the upright position at automatically reduced speed.

Low wear on support wheels through ProTracLink

Sprung, hydraulically cushioned support wheels - linked via the coupled rocker ProTracLink - distribute the supporting force as necessary. During straight travel this supporting force is concentrated on the wheel drive. On corners the patented system concentrates on the outer support wheel and thus facilitates the pedestrian truck to take corners steadily. On approaching ramps, ProTracLink assures low wear on support wheels through level adjustment: Both support wheels are always at the same level due to a mechanical connection. The lower support wheel does not knock against anything and is not damaged.

All ranges are equipped with innovative 3-phase AC motors. Their optimised efficiency ratios ensure high speeds (6.0 km per hour with and without load) as well as powerful acceleration. Added to this are long operating times due to powerful batteries with excellent energy management. Capacities are up to 250 Ah (Range 1) or up to 375 Ah (Range 2). The option for sideways battery removal and thus quick battery change is provided for trucks with long operating times that exceed the capacity of one battery charge.

More from Architectural & Civil Engineering Products