Electric IR Conveyor Oven aids in bottle recycling.
Press Release Summary: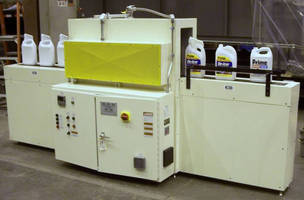 Electric IR conveyor oven heats deformed plastic antifreeze bottles allowing removal of paper labels and recycling of plastic. Dual RH electric IR heaters produce total output of 19 kW and 27 A at 480/3/60, while conveyor system uses carbon steel flat wire belt. Along with 3 ft 6 in. x 6 in. x 1 ft 6 in. heating chamber and 1,400°F max emitter rating, features include 2 emergency stop buttons, NEMA 12 control enclosure, and Honeywell UDC 2500 temperature controller.
---
Original Press Release:

Infrared Conveyor Oven Designed for Preheating Plastic Antifreeze Bottles



Wisconsin Infrared Systems designed and manufactured an electric infrared conveyor oven for a leading automotive supplier to heat plastic antifreeze bottles that are deformed during the production process. After heating the bottles, the paper labels are able to be removed and the plastic recycled.

The oven has a 6" wide x 3'6" long x 1'6" high heating chamber and a 1,400°F maximum emitter rating. Removable exterior panels allow for easy access to the infrared heating and cooling systems. The infrared conveyor oven uses two RH electric infrared heaters for a total output of 19kW and 27 amps at 480/3/60.

The conveyor system uses a high carbon steel flat wire belt to move the bottles through the oven. The conveyor utilizes a potentiometer-controlled variable speed DC drive with electronic torque limiting, adjustable from 10'-20' per minute. Two emergency stop buttons are located on the oven, one near the oven entrance and one near the oven exit.

The NEMA 12 control enclosure utilizes SCR power controllers, complete with back-up contactors and includes an on/off zone selector switch and conveyor switch. The temperature is controlled by a Honeywell UDC 2500 temperature controller.

For further details on this equipment, or if you would like to work with us on another application, call our sales office at (262) 642-3938, or by email at infrared@wisoven.com. For additional information on our Infrared Conveyor Ovens or to request a quote, visit our website at http://www.wisinfrared.com/.

More from Software