Electric Injection Molding Machine features hydraulic circuit.
Press Release Summary: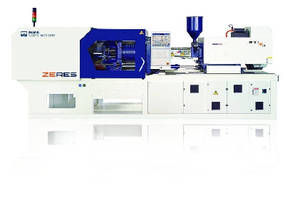 Available from 45–730 U.S. tons, Zhafir Zeres Series includes integrated hydraulic circuit to facilitate molding applications which require core pull or sophisticated ejector functions. Hydraulic core pull interface (circuit) is installed on moving platen and provides more flow and increased pressure compared to external power pack solutions. Pressure and flow rates are adjustable via machine's controller. Software is included to control up to 3 hydraulic circuits.
---
Original Press Release:
Zhafir Zeres All-Electric Makes its Midwest Debut
Minneapolis, Minnesota  – The Zhafir Zeres all-electric injection molding machine will make its Midwest show debut at the PLASTEC Minneapolis trade show on September 21 - 22. The Zeres Series is based on the Zhafir Venus II platform but includes an integrated hydraulic circuit to facilitate molding applications which require core pull or sophisticated ejector functions.  Launched at NPE 2015, the Zeres was available at that time only up to 259 U.S. tons. As of this event, the Zeres is now available to U.S. and Canadian molders from 45 to 730 U.S. tons.

The hydraulics open new possibilities for molders who prefer electric machines but need hydraulics to operate core pull. The integrated hydraulic core pull interface (circuit) is installed on the moving platen and provides more flow and increased pressure compared to external power pack solutions. Pressure and flow rates are adjustable via the machine's controller. Software is included to control up to three hydraulic circuits.

"In the past, molders who needed core pull or hydraulic ejectors had to place a separate hydraulic power pack next to the molding machine. With integrated hydraulics, the Zeres Series eliminates the need for the power pack, reducing the machine cell's footprint and improving productivity per square foot. It makes it easier for processors to switch from hydraulic to electric machines," said Absolute Haitian owner and Chief Technology Officer Mike Ortolano. "It is the optimum solution for molds with core pull, and molded parts where quality is the issue rather than shorter cycle times, for example with optical components."

At PLASTEC Minneapolis, the Zeres on display is a ZE 400/80, a 45 U.S. ton model with 1.60 oz. shot size. The mold, courtesy of New England molder VitalMed, Inc., Pocasset, MA, is a clip for the positioning of medical tubing. The tubing clip is made from high density polypropylene compatible with ETO and GAMMA sterilization. In the past, this mold has run in a larger machine model but the generous tie bar spacing of the Zeres Series enabled the clip mold to run in the smaller tonnage machine, a benefit to molders looking to maximize productivity.

Absolute HAITIAN, based in Worcester, Massachusetts, is the exclusive sales and service partner in Canada and the U.S. for Ningbo Haitian Machinery Co., Ltd. based in Ningbo, China.  Ningbo Haitian Machinery Co., Ltd. is the world's largest supplier of plastics injection molding machinery, shipping in excess of 26,000 machines in 2015.  Haitian products are sold in more than 130 countries with machine sizes ranging from 44 to 7,425 U.S. tons of clamp force. More information is available by visiting the Absolute Haitian website at www.absolutehaitian.com   

CONTACT:
Patrice Aylward, Communications Consultant, +1 216/618-3174 or paylward@absolutehaitian.com
More from Electronic Components & Devices